Free shipping in DK to a local package box ⎮ Free International shipping above 1800DKK
---
---
---
Tanja is an inspiring woman who daily runs the sustainable blog Secondhandfirst.dk. She is a master in secondhand shopping and creates guides on her blog on how you can start buying more secondhand. She is a sweet, beautiful and business-minded woman, living a colorful life with secondhand and eco conscious choices with her entrepreneur boyfriend in their amazing apartment in Aarhus.
---
---
Tanja is a woman who, on her Instagram and blog, shares her view on secondhand and sustainability in your every day life, with guides to secondhand shopping in Denmark. She opens up about challenges with sustainability in fashion and interior, shares tips on eco friendly habits and much, much more.
---
---
---
---
Age: 28.
Where are you from:

Southern Denmark, but for the past many years, I have resided in Aarhus.
 

Favourite breakfast:

Fruit salad with homemade coconut yogurt, cacao nibs and peanut butter, accompanied by a large, foamy cappuccino.

 

Favourite garment in your wardrobe:

Oh, I have so many, but if I'm limited to one, I'd have to say my red silk dress from Sandro Paris that I spent almost a year hunting down. The pattern consists of tigers and clouds, but you can't see that from afar. Wearing it is a bit like having a secret, albeit a very kitsch secret.

 
Favourite travel destination: London is one of the places where I feel most at peace, even with all the big city commotion. I have travelled there for both leisure and academic fieldwork, so it is a place that's filled with all sorts of memories for me.
---
---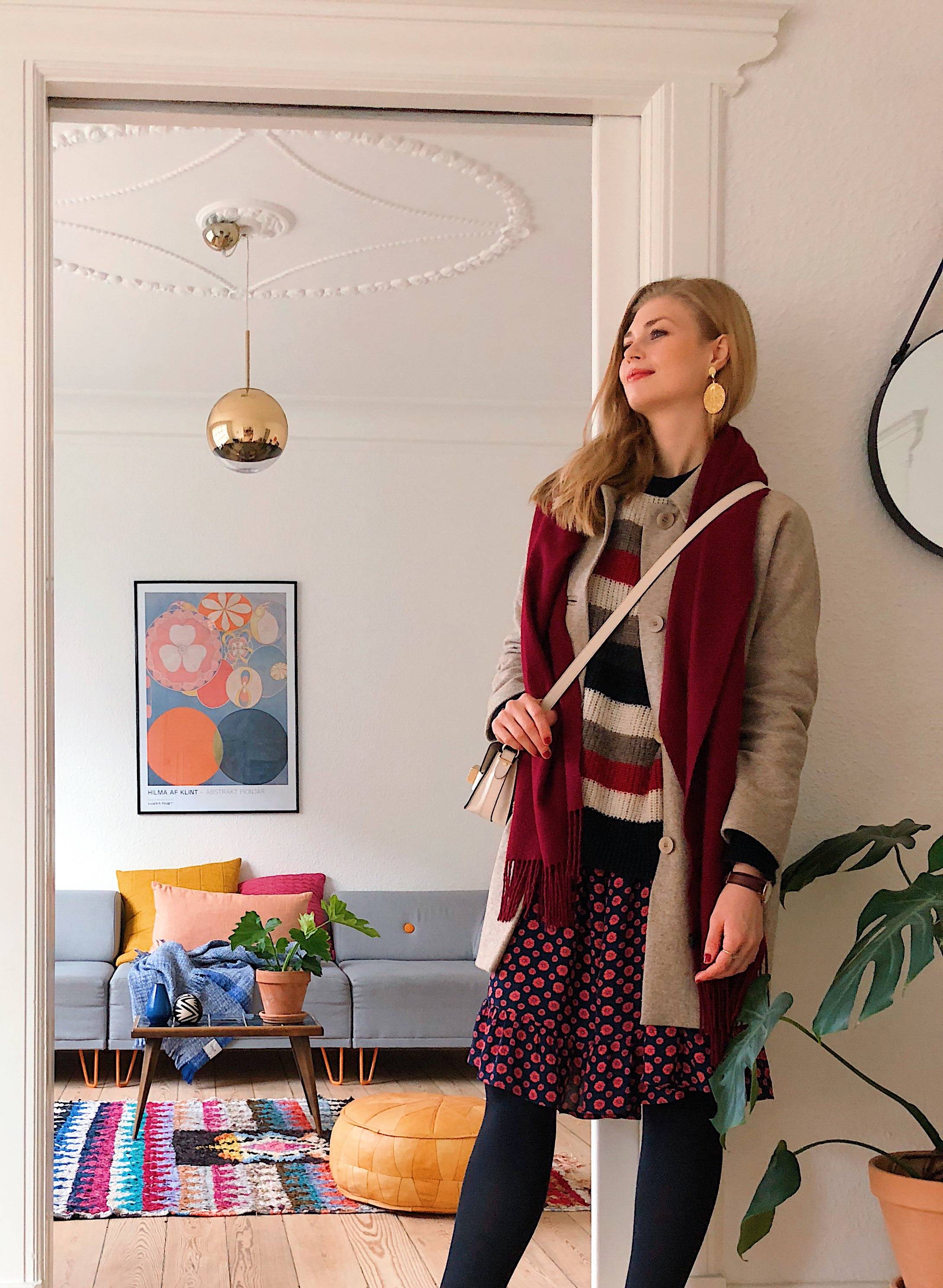 ---
---
---
---
''We, my partner and I, have tried to implement sustainability in various everyday practices, but I would like to add that we still have much to learn. The most central thing is perhaps that we opt for secondhand shopping whenever possible, and sustainable options when secondhand falls short. But we also consider our meat consumption, limiting it to one day a week if any, we try to limit our waste and we buy as much organic and locally sourced food as we can. I usually also bring a to-go cup and a string bag when I'm on the go. My savings/pensions are invested in sustainable industries, and although we have a car (due to my partner's job), we try to use it mindfully.
I perceive sustainability as a means to end suffering and exploitation. Seeing others or anything mistreated has always caused me to react and protest. Even from a very young age, I got very vigilant and protective when I saw suffering. And I love spending time in nature – and I find it hard to fathom the consequences if we do not change our ways.'' Tanja Gotthardsen
---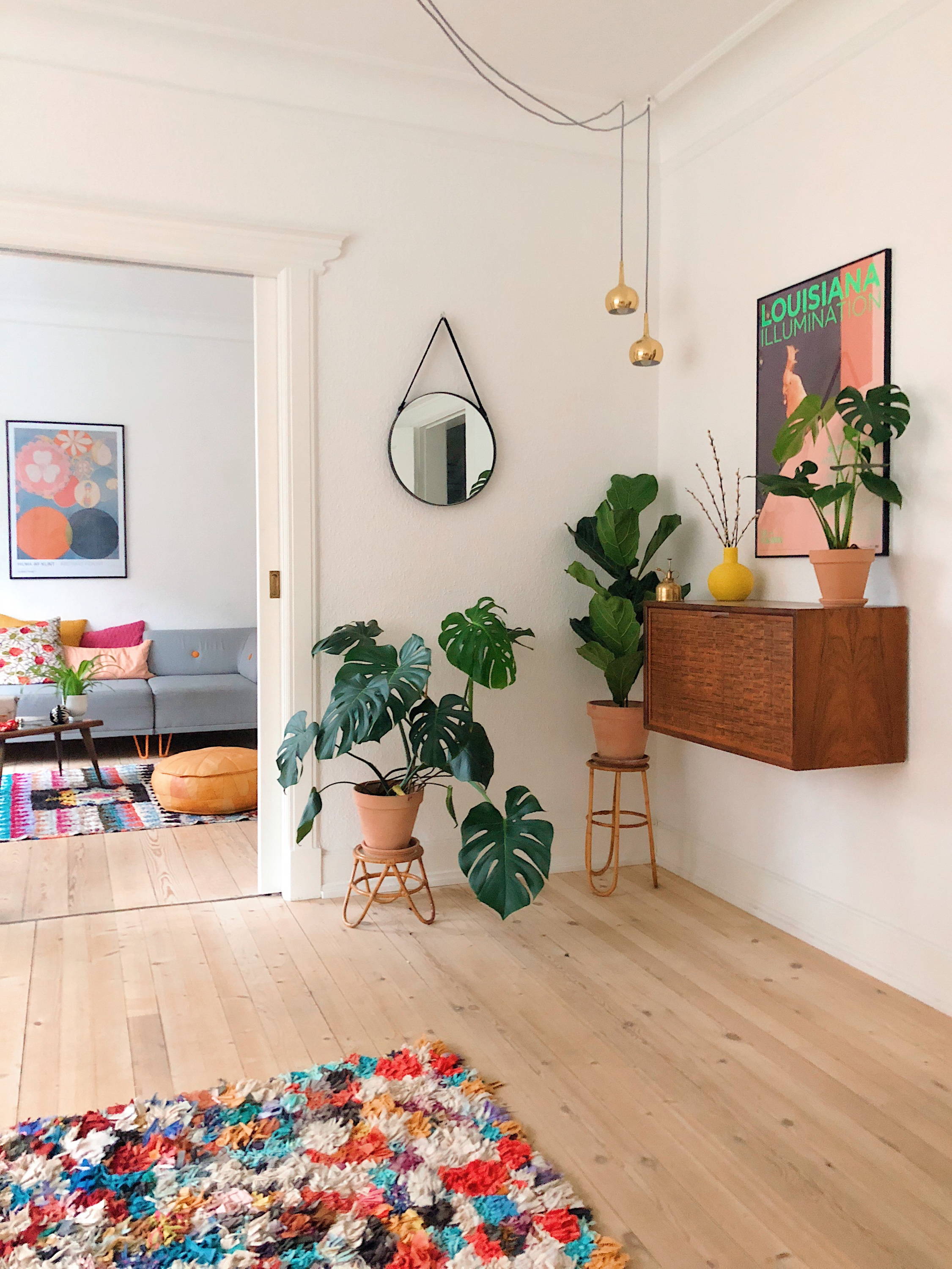 The bar cabinet is also a Danish midcentury piece, by Kai Kristiansen. We were lucky enough to find it at a very good price online, and in rosewood too. We bought the plant piedestals at local secondhand stores Fleabies and Brugtvare Terminalen, while we found the lamps and coffee table on Facebook Marketplace for next to nothing. The cushions are a mixture between upcycled designs from Relove & Roses and organic/sustainably. And the yellow pouf was found in a local secondhand "barn" (it is literally a barn filled with old goodies), called Loppeladen.
---
---
Any quote or wise words you want to share regarding sustainability?


I would have to go with the cliché that spending money is like casting a vote for the society (and world) you want to see. If you don't buy it, there's no need to make it.
---
---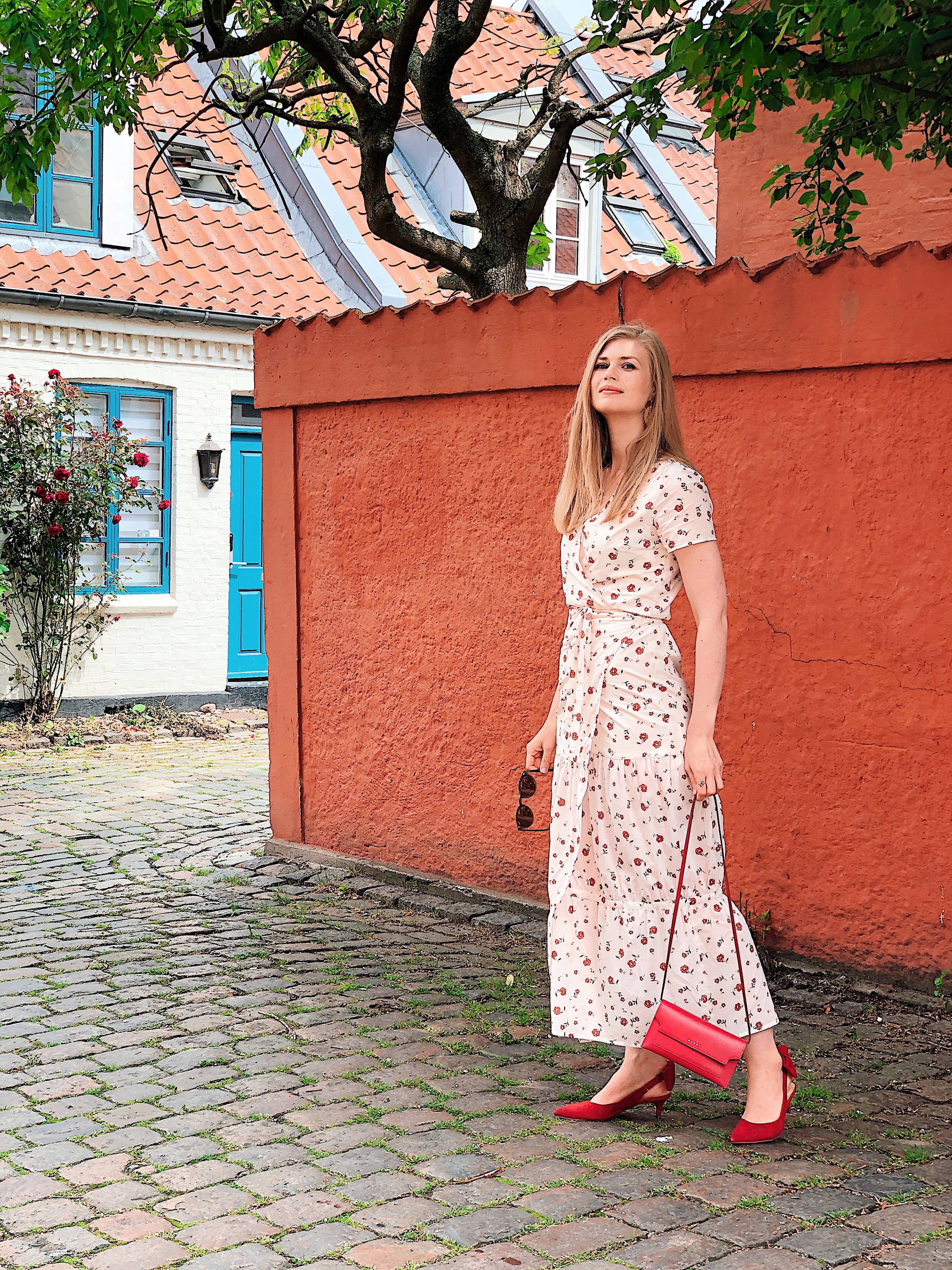 ---
You have a beautiful home. Where do you find inspiration for your home?
Thank you! When I was younger I drew and painted constantly. It was my greatest passion, and I even worked as a freelance illustrator for a few years. My illustrations always ended up exceedingly colourful – even when my plan was to do something more monochromatic. And surely, that is something that has snuck into our rainbow décor. My secondhand shopping is also a means of inspiration, as I constantly challenge myself to imagine how a particular thing would fit in. I'm not big on interior magazines or Pinterest, but surely social media has also influenced me along the way.
How do you find the balance between shopping new sustainable items versus secondhand?
My mantra is secondhand first, meaning that there is also room for what comes "after". I think that helps me immensely in remembering a sense of flexibility – If I can find what I need secondhand, I opt for secondhand; if I can't, I look for sustainable options. However, as secondhand options are currently abundant due to overconsumption, I also find myself challenged with regard to the support I want to give new sustainable industries. Thus, in 2019 I hope to purchase at least three items from sustainable brands that I really wish to see flourish, and in terms of my own business, I will also try to challenge the "secondhand only"-mind-set by showcasing a series of collaborations with sustainable brands.
Have you always had a love for recycling and reusing?


Yes, I think it has been there all along. As a child, I went with my grandparents to a lot of flea markets, where I collected ceramics, fine china and toys. I get the same feeling of going on a treasure hunt today. It resurfaced even more so in my early teens, where I began secondhand shopping for my wardrobe, and later on, I also began shopping secondhand interior décor.
---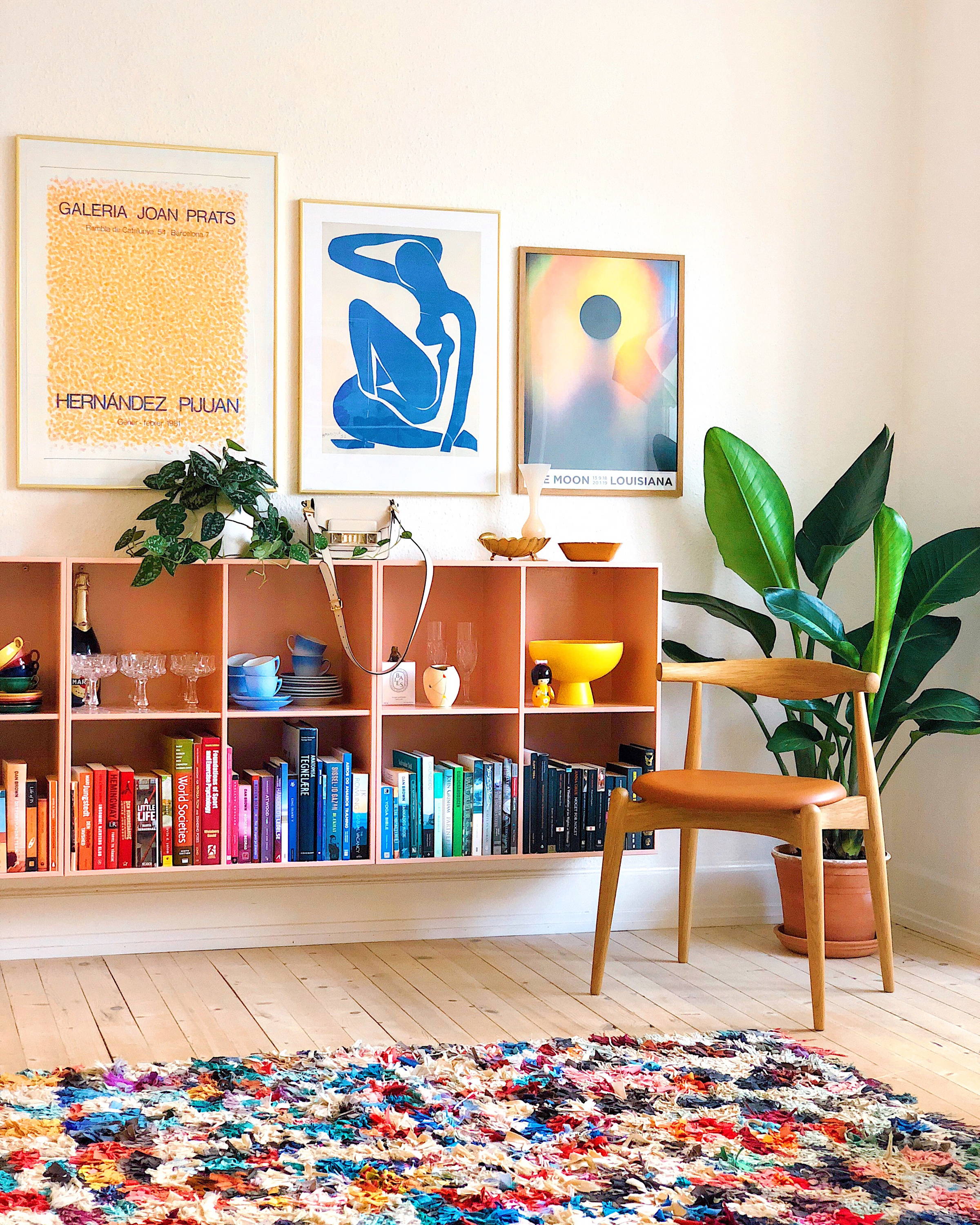 The book cases were found on Danish secondhand app DBA and restored with a new layer of paint, while the art prints are a mixture of museum purchases and vintage finds. I generally buy my art prints in thrift stores, via local specialists and social media or through specialized galleries abroad, depending on the exclusivity.
The Pijuan-print on the left was, for example, bought through an Irish gallery. The rug is a vintage Moroccan boucherouite, of which we have two in total, found via the secondhand app Tradono, and the smaller items are primarily flea market finds.
---
The tea and coffee pots are Danish classics from Bing & Grøndahl, from a series known as "Ballerina", found secondhand online and at Brugtvare Terminalen. The smaller, blue vase was found at The Basement, while the larger one at the back was purchased alongside the tea pot at Brugtvare Terminalen.
The electric blue beret was found in a charity shop for next to nothing, the yellow murano vase was purchased from a Danish collector residing in Berlin, and the blue vase and fish caraffe were purchased at The Basement, one of my favorite vintage intertior stores.
Our dining chairs are among the very few things we have purchased from new, as they are next to impossible to come by secondhand. They were designed by Danish icon H.J. Wegner in the 1950s, and they are to this day still produced in Denmark, by hand, using only sustainably sourced materials. I plan on sitting in the very same chair in 50 years.
---
---
When and why did you start your blog Secondhand First?
I started my blog in August 2018, as an expansion to my Instagram account. My followers had started requesting more in-depth content and guides, and I had felt the urge to do something "more" for quite some time. Also, my follower count had gone through the roof in just three months after I started posting more regularly and with more emphasis on secondhand – there was such great momentum. So I spent my Summer brainstorming, and I came to the conclusion that a blog would be just the perfect way to build more long-lasting resources for my followers and a new creative outlet for myself.
You recently quit your day-job to pursue a life as entrepreneur as a fulltime sustainable blogger. How does it feel to be your own boss?


It's a full theme park experience – I find myself on a rollercoaster ride where I'm mostly squealing with joy, and, from time to time, I'm touched by a brief sense of panic, because it still feels so crazy. But in short: I love it. It makes me feel alive, creative and free. And I love networking and it gives me the constant privilege of meeting amazing people with whom I share so many interests.
What do you think are the pros and cons about being a full time sustainable blogger?


The pros are definitely that I get to spend all my time communicating initiatives that are meaningful to me, I have almost absolute creative freedom, I schedule my own work, I get to do a lot of networking, and that I learn something new every day.
There's a balance in earning in enough money and protecting one's integrity which, at some point, I would have worried about. So that was a hypothetical con. I would rather earn nothing than do collaborations that feel at odds with my values, but luckily, I have been blessed with amazing partnerships.
A major con for me in the beginning was that blogging and influencer marketing is heavily stereotyped in Denmark (and probably everywhere else). It's often linked to uncritical consumerism. But after quite a bit of soul searching, I've come to the conclusion that I would rather want to help change that portrayal than cower and do nothing. Especially seeing that my job feels so meaningful to me.
How do you wish to inspire your readers to live more sustainable?


I hope to show that sustainability can be colourful, playful and fun; that it can easily be implemented into everyday habits, and that it is not about missing out. Sustainability does not need to be synonymous with asceticism. And I want to provide a safe space where people can learn about small everyday changes without being blamed or in competition with one another. There needs to be room for process. If sustainability becomes judgemental and exclusive, I'm afraid that it in itself will not be sustainable for the people partaking. It might even block any openness towards inspiration and change.
I'm also very keen on having my readers share their knowledge, so the inspiration is not limited to whatever I can provide, but rather, it becomes a community effort.
---
---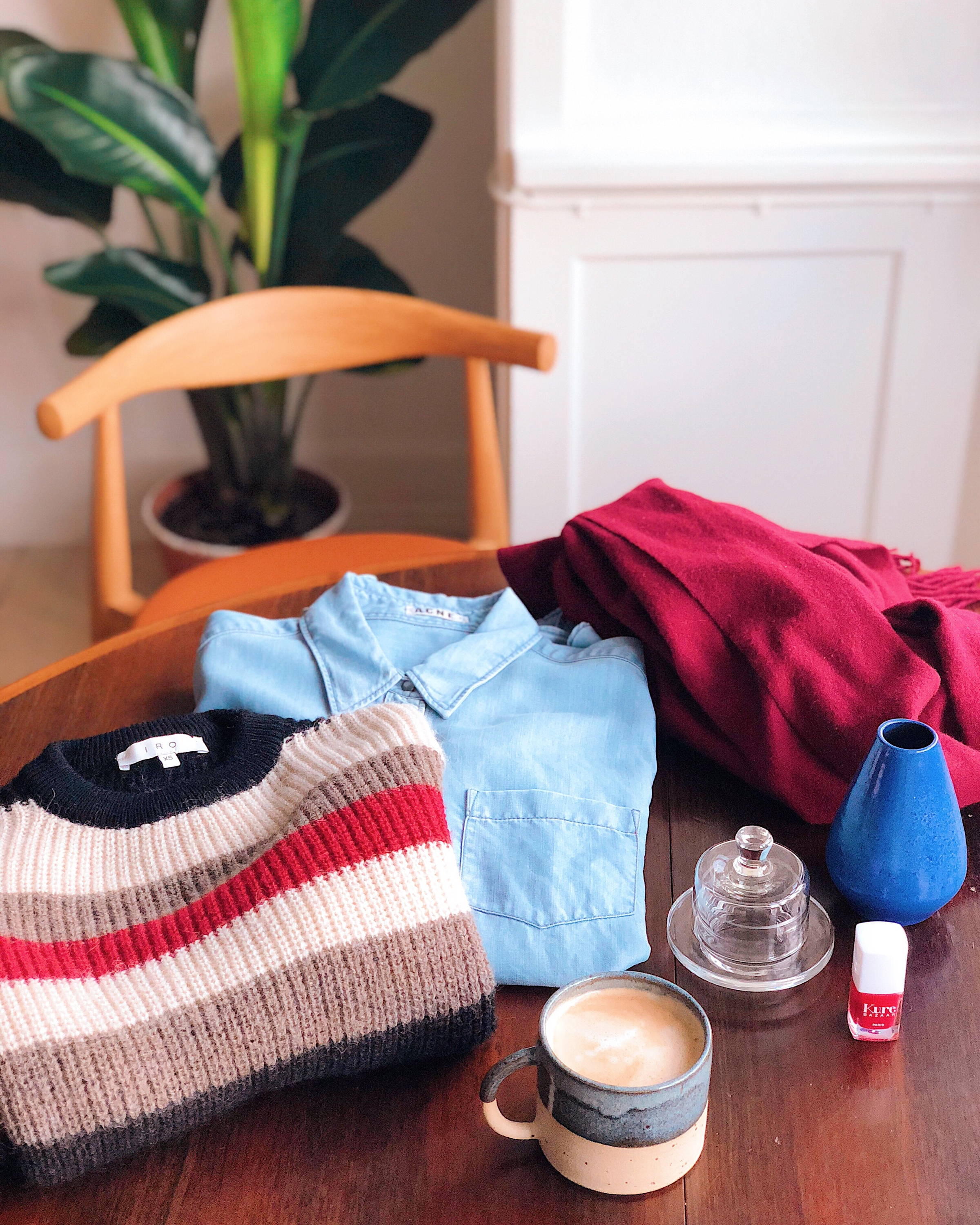 The knit from Iro and shirt from Acne Studios were purchased at Högenhof Preloved Luxury, one of my favorite secondhand shops in Aarhus.
---
The printed, red dress from Sandro Paris was found via Vestiaire Collective, while the boots from Notabene were purchased via Tradono. Cashmere knits and scarf (in the background) are flea market finds.
---
---
What are your top favourite secondhand stores and flea markets in Denmark?


In Aarhus, I love visiting my friend Laura's wonderful secondhand store, Högenhof Preloved Luxury. Laura's items are very fairly priced and the selection is truly luxurious. For interior décor, I visit Fleabies or The Basement, because they offer great hand-picked selections. With regard to flea markets, there is one right in my back yard (on Ingerslev Boulevard) every month from Spring to Fall, and I'm also very fond of the markets that are held inside and outside our concert hall and Godsbanen. I Copenhagen I most commonly shop for clothing, and my go-tos are MudaNashi and Second Wardrobe by Martine. Oh, and Vintagecph has an amazing selection of vintage art posters!
---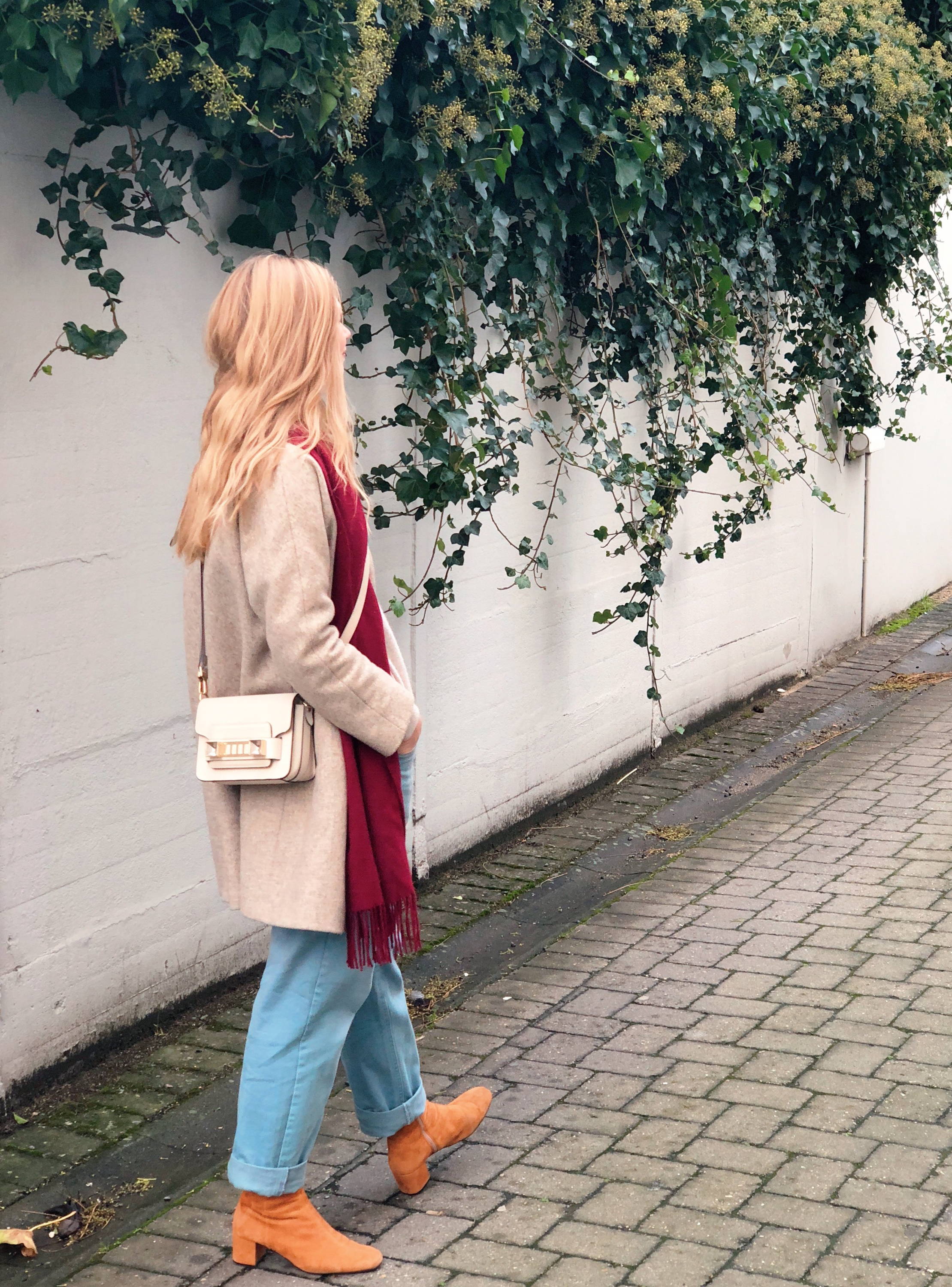 ---
What is your best advice if someone wants to start buying secondhand?
First and foremost, I think it's about finding out whether one is into curated selections or digging deep at charity shops. Do you want to go high-end, charity or a mixture? Are you into vintage styles or more contemporary designs? The handpicked selections are great if time is a concern for you. The options are abundant, and you can surely find something that suits your taste.
Also: don't overconsume – even though it is secondhand, it will do no good just sitting in your closet. Buy and keep what you need and love, and let everything else circulate.
And finally: consider how you part with your secondhand purchases (as well as any other kind of purchases) – make sure that they stay in circulation for as long as possible.
---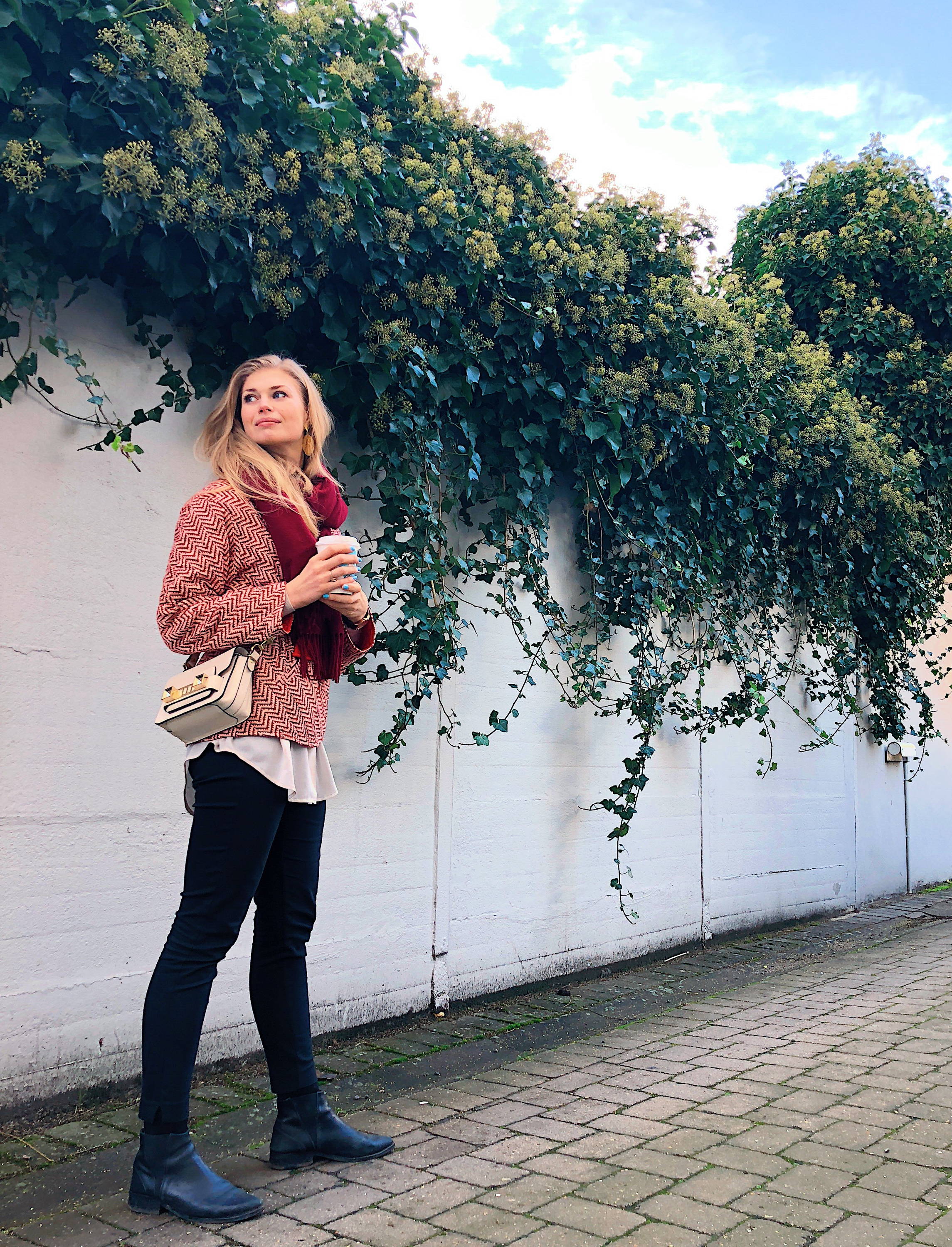 ---
We are grateful for the little sneak peak we got into the life of Tanja Gotthardsen.
 
We hope you enjoyed it too.
---
Learn more about Tanja on her blog here.
Photo credits: Tanja Gotthardsen.
---
✕