Free shipping in DK to a local package box ⎮ Free International shipping above 1800DKK
---
---
---
Josefine is a designer who, with her husband Emil, runs the family company Leo Leo where they create beautiful and eco friendly design for children and babies. Josefine has a master's degree in design from The Royal Danish Academy of Fine Arts and has always been a creative person. She is an amazing mother to her two kids, soon to be living a life on the road in Portugal in their (almost finished) renovated home on wheels where they combine the family's lust for adventure, freedom and creativity.
---
---
Josefine and her husband Emil has done what we others often talk about but don't have the guts to follow through with. They have sold their apartment, bought a bus and are currently doing the last renovating on their home on wheels so that they can start their new life in Portugal on the road. With a family of 4 and a sustainable business they are following their dreams while exploring the world.
---
---
---
---
Age: 34.
Where are you from:

Copenhagen, Denmark.

 

Favourite breakfast:

My husband's signature smoothie.

 

Favourite garment in your wardrobe:

Currently living in my Gritt & Boris dress! I'm layering and pairing it with jeans and a shirt. Can't wait for summer nights, wearing only the dress.

 
Favourite travel destination: Currently, beyond excited to move to Portugal!
---
---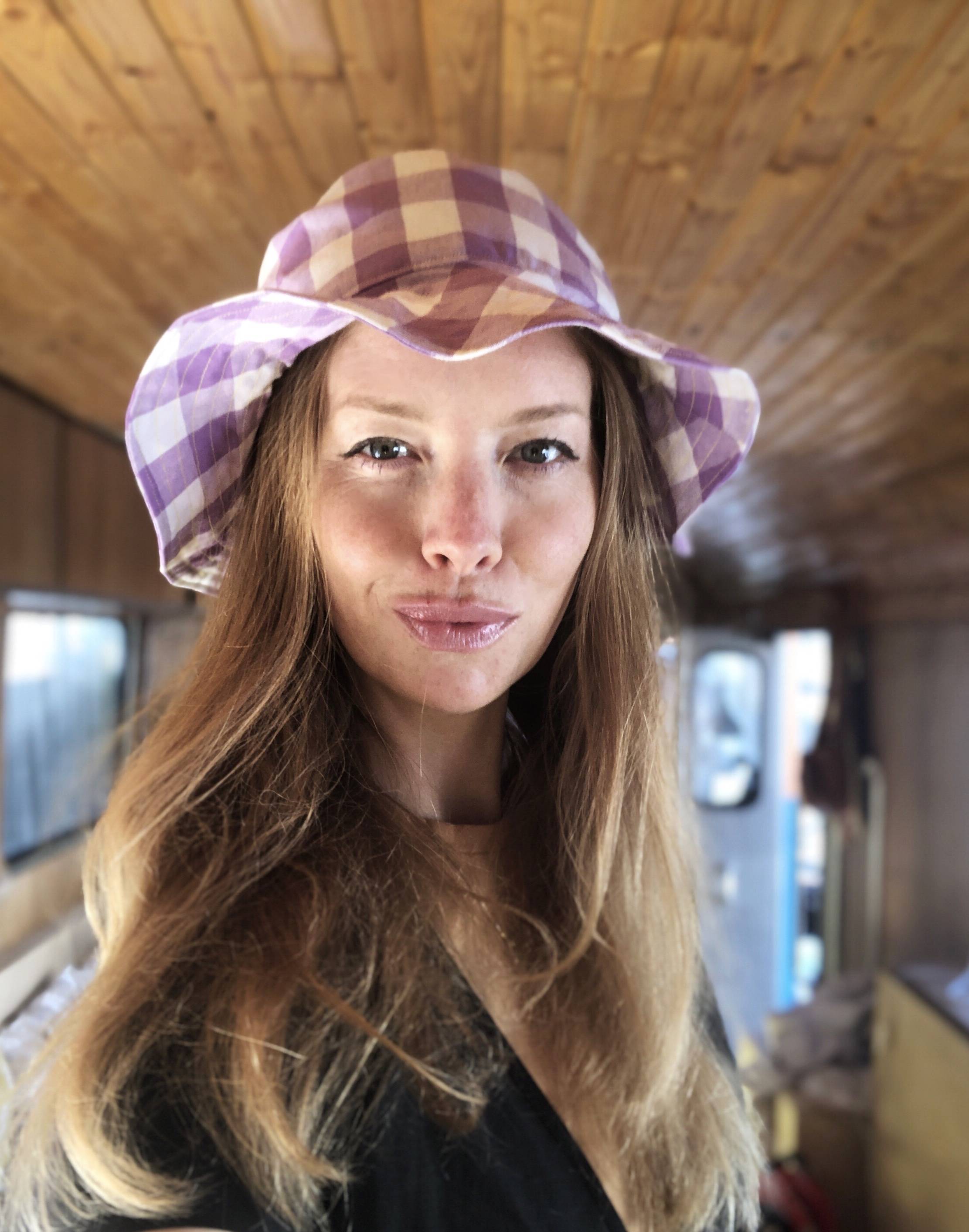 ---
---
---
---
''The more you dig into this field, the more you become aware! It's simple as that. Sustainability comes in many shapes and can be interpreted in many ways. For me it's not only about buying organic cotton and then you've done your deed. It's about how you buy, why you buy and from who or where you buy.

The more I study the subject the more eco-freaky I get. I think it's a matter of being aware about my habits and face the fear of missing out. I'm a sucker for fashion and fast trends, always have been, but I'm taking a stand! No more cheap clothes, fast fashion and using all my hard earned money on hyped trends. It's expensive, it's bad for the planet and it will not make me happy. For me it's about integrity. I can't buy organic food and then put on my cheap shoes made by a big company in which i have no idea of, how they were produced or if the people who made them even got paid or got a lunch break!'' Josefine Ekstrand.
---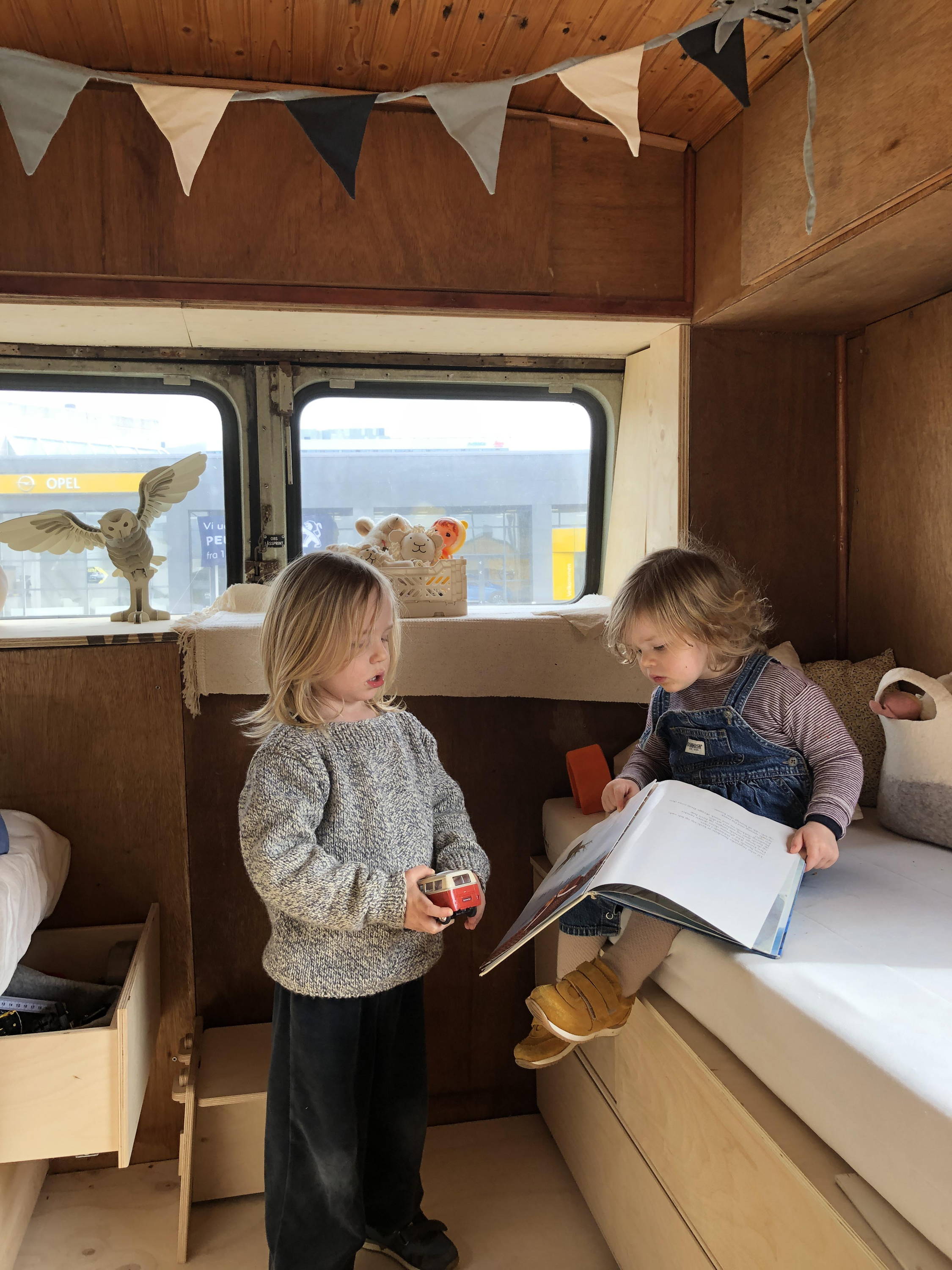 Leopold and Hilma in their new room. Behind them is a box filled with toys from Leo Leo.
---
---
Any quote or wise words you want to share regarding sustainability?


"Say it, don't spray it" and try to actually do something about your use. I'm no saint and obviously still fall in the category of wanting and buying stuff I don't really need, but I'm working on a new motto "spend more, buy less". Oh and I got one more. Poor man is going to buy a lot, rich man don't. Obviously you don't get richer or happier by buying a lot of stuff all the time.
---
---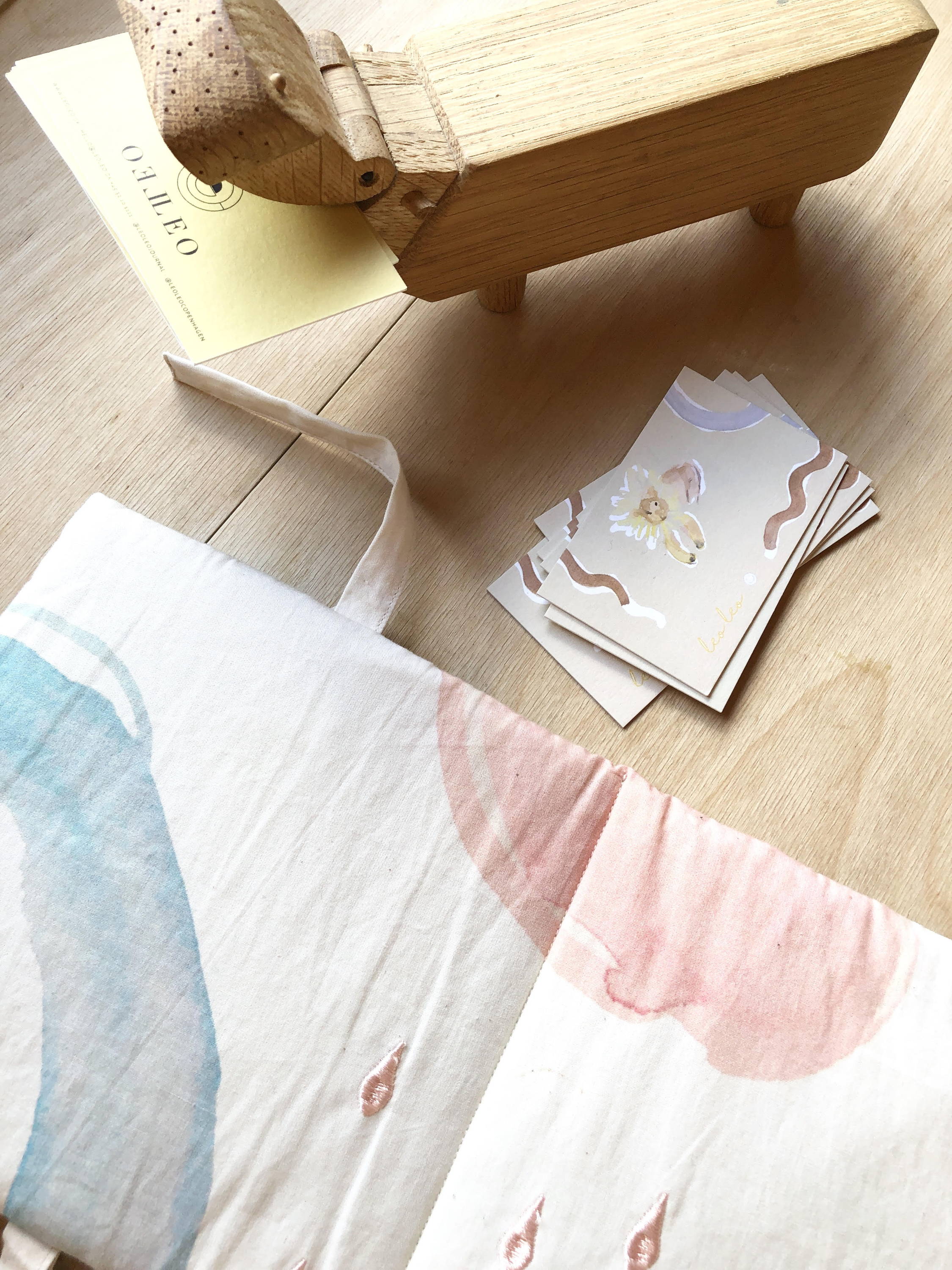 Fabric book from Leo Leo.
---
Tell us about yourself and your work background?

I'm turning 35 years old in November, I'm the mother of my two children Leopold (4 years) and Hilma (1,5 years old) and married to my best friend and love of my life, Emil. I have a master's degree in design from The Royal Danish Academy of fine arts & design, where I've focused my studies on visual communication and fashion design.
I've worked a bit in the fashion industry and always known that the path for me was something along designing. For many years I just didn't quite knew in what direction of the field and sometimes all that studying made it more complicated to go with what was naturally driving for me.
Have you always been creative?
Always! It's my medicine. Sewing, drawing, making...pretty much everything. I'm a Waldorf child and have in some ways also been forced to try out new materials in a very young age. When you've used several weeks working on a huge raw rock of 200 kilos, sculptured it into an organic shape exclusively using hammer and chisel. Walking home from school with powdered stone dust everywhere, ears, hair, nose and clothes. Thinking `can I do this for a living´, It's not to be joking with. Being creative is not an option for me, it's just the way it is.
Where do you find inspiration when designing?


It can be all kinds of places, or people I've met or seen in the streets. Often the magic happens in those ten minutes of blissful alone time in the shower. I can stand there and my head goes crazy with ideas. Many of my ideas has come to life, by me walking out in my towel and just go straight to working on the design idea. Last design was actually made, by looking in my husbands old drawing books from Waldorf school. He had made the most beautiful watercolor paintings and I decided to use them as a print in our new fabric book for babies.
---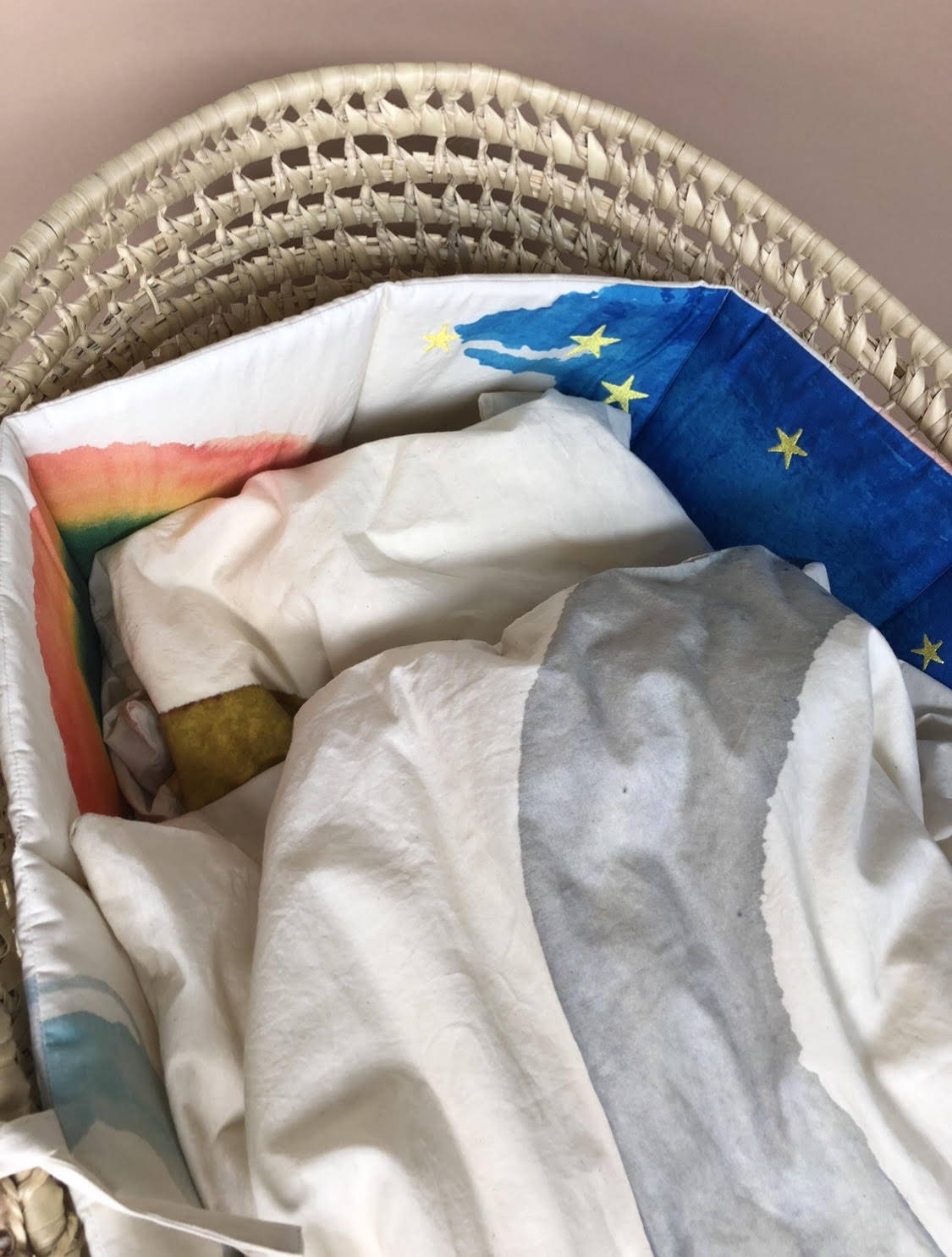 Bedding and Fabric book from Leo Leo.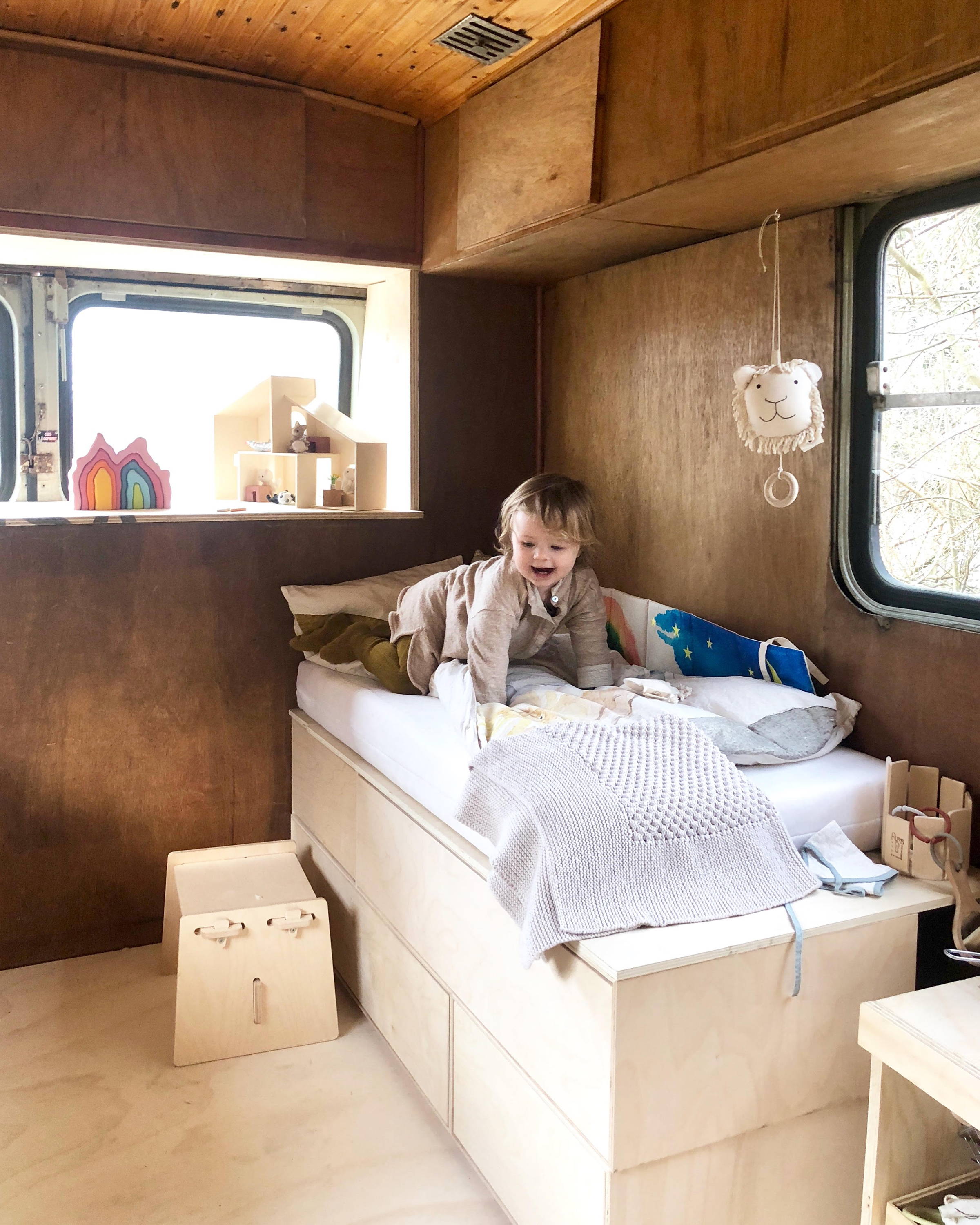 Hilma in her new bed in the bus.
---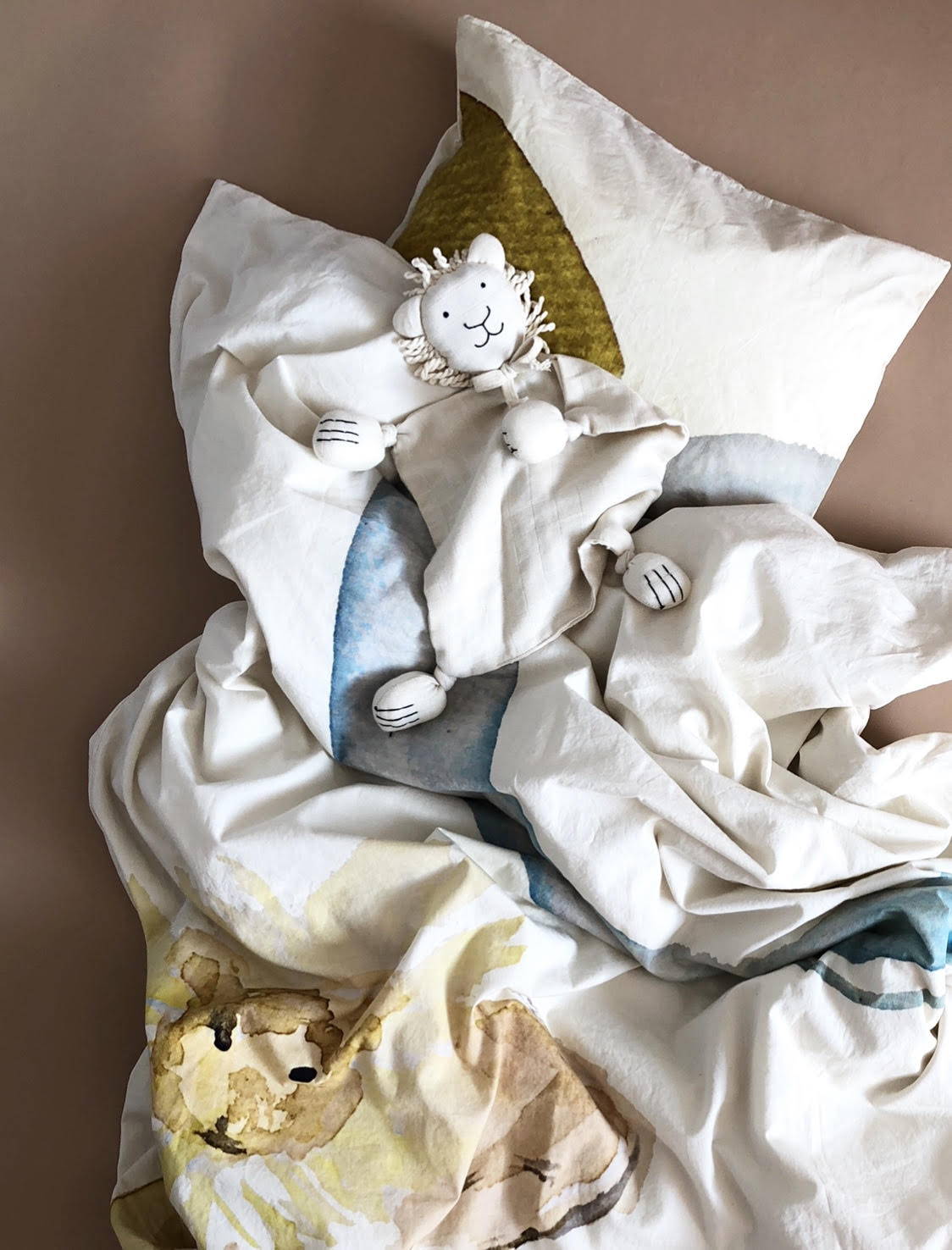 Bedding and Cuddle Leo from Leo Leo.
---
Why did you decide to start your business?
The short answer would be that it's impossible for me not, to do or make things myself. It feels wrong for me, not to go after that inner drive and deep need to start my own business.
But of course we're not here today just by inner needs and dreams. There's a long version too. Emil had started his own business, practicing Body-SDS (Body Self Developing System) and we were new parents to our little son. We spotted a place we could rent and where we could start something together. We started a concept store, selling small curated brands, my handmade baby clothes and soft toys, coffee, our home brewed Kombucha and Emil's clinic in the back. It all started good and our kombucha had a lot of success, we constantly sold out so we invested more time and money in the project. Bought expensive brewing gear from italy and made our first batch of 300 hundred liters organic Kombucha, which unfortunately didn't succeed, so it all went down the drain (literally). Besides that, we could feel a growing demand for my handmade soft toys and I was sewing like a mad person late at night. We took the leap, but we couldn't keep up. The money was short and we had so much work we hardly slept. Somehow I got pregnant again (can't believe we had the time for that) only this time I was sick in bed. We had to face it. The brewery business was way too much work, we had no helping hands around us and Emil had to work so many hours just to be able for us to pay our rent. He was so tired from working three physically hard jobs, bringing and picking up our son from daycare everyday and coming home to a sick partner.
One day, pregnant, sick and sad i found an old piece of paper with the first attempt of our LeoLeo logo, in which Emil had written on with a red pen "Stay focused"! I burst into tears and realised. What are we doing here? We are drowning and all that was meant to be fun, is no more. I remember Emil just kissing me and saying something like, "Let's do it! Let's focus on LeoLeo, also I actually have a great idea for a print we could do". And that was it. We just said "yes"!
What is the most important aspect to you in your business Leo Leo?


We are a family brand and that make the choices we make very personal. We work together on every aspect of our business. The personal agenda is of course about being able to create something together and to teach our children how to work together. Giving them the tools to be able to build up, to create and work towards your dreams in life. That being said, I see designing and starting a business ultimately as the opportunity to solve problems. Do we need to look at the textile industry and our overuse with more awareness, yes we do! I'm hoping LeoLeo can take part in a new consciousness and create interest in a different lifestyle.
How do you divide your work between each other?


Honestly in this very moment everything is one big mess. We're currently living in our bus, located in a garage working on the last things, before we can finally drive. Some days we're all in the bus, kids playing while I attempt to answer emails and Emil is working on something on the bus. Other days it's the other way around. The theme right now is chaos. However, it's the idea of our new life in the south that doesn't make us break down completely, when yet another deadline has failed. It might even give some new ideas for designing our next collection.
What are the challenges and benefits of being an entrepreneur and a full-time mother?


The challenges often point to ourselves as parents, when our kids behave wildly and do things we do not want. It's interesting to see how we handle it, ourselves. I admit It's often where the major challenge lies. If I've had a bad night with not much sleep, waking up with the lack of energy it's often those days I feel a conflict is getting worse. But I mean, as all parents would know, when you finally have had a great night's sleep, waking up to a exiting email, the sun is shining and the day is starting perfect. That is until your kids wake up, who haven't had a good night's sleep, screaming at each other, throwing food around, yelling and spilling your coffee all over your newspaper and refusing to eat your home baked buns. Life with kids is sometimes hard. Life, full time, with kids is sometimes twice as hard. To sum things up, full time parenting and entrepreneur life ultimately rests on the ability to compromise.
---
---
Emil and Leopold fixing the windows on the bus.
---
Leopold and Hilma, together in their new home.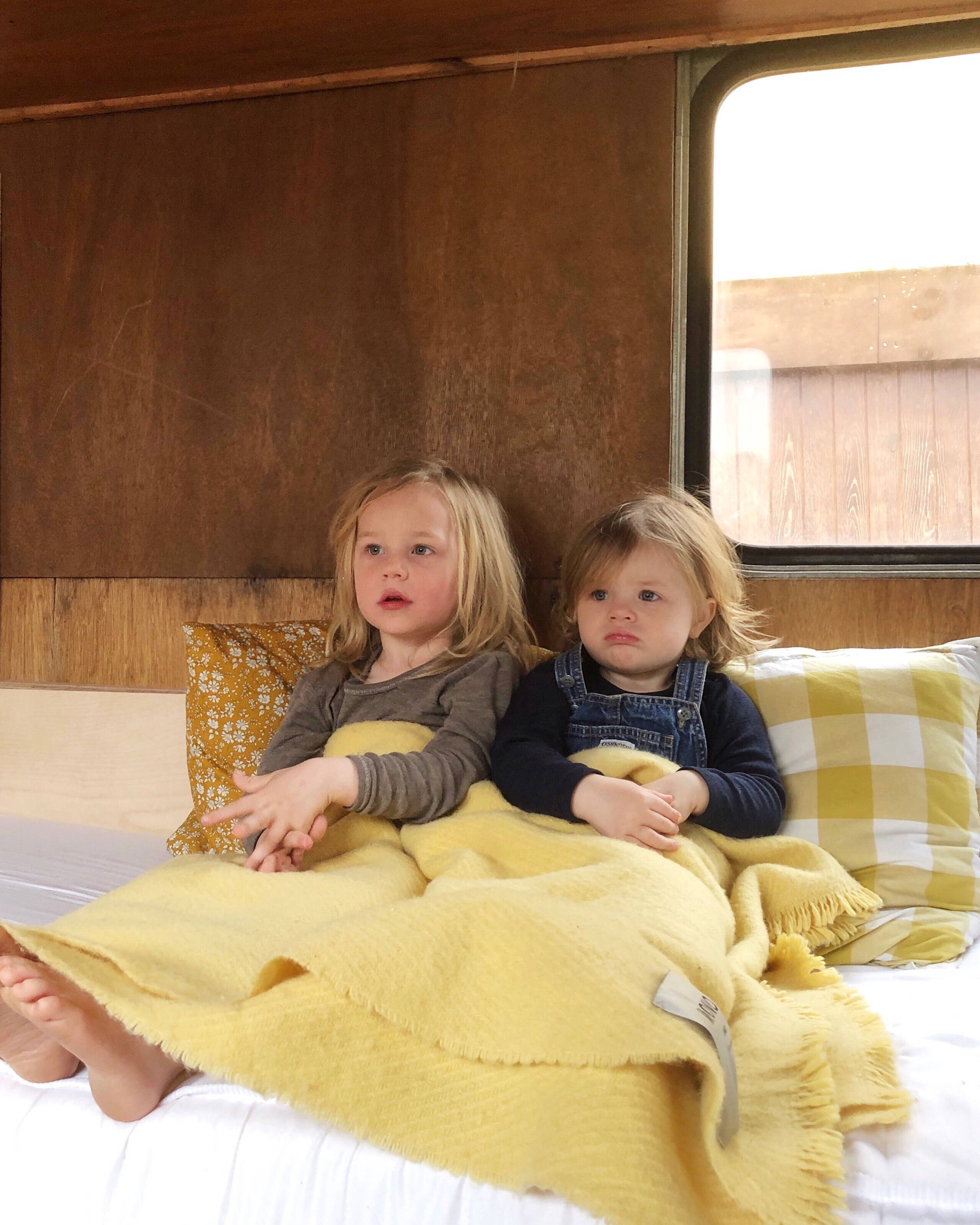 ---
---
When and how did you and your husband Emil meet?


It was the year of 1991 our first day of school. We shared 10 years in a Waldorf school north of Copenhagen, we were high school sweethearts. Emil left class and I didn't see him in 15 years, until the ultimate cliche! The 10 year reunion party together with all our old classmates. He walked in, checkered shirt, red cap, curly hair locks underneath. I recognized everything about him. The way he walked, his smell, his voice. I had no doubt in my heart and luckily neither did he!
What challenges have you faced together as a couple with your business?


Possibly every challenge in the book of, parenting, entrepreneurship and everyday life. That being said, Emil and I are on a mission, there is a meaning to the challenges, we might even need them to learn and do better! We've already made so many mistakes, making bad decisions and going in wrong directions, but never with each other. With all we've already been through It really proves that if you have the right partner or team, no challenge is too hard to conquer.
---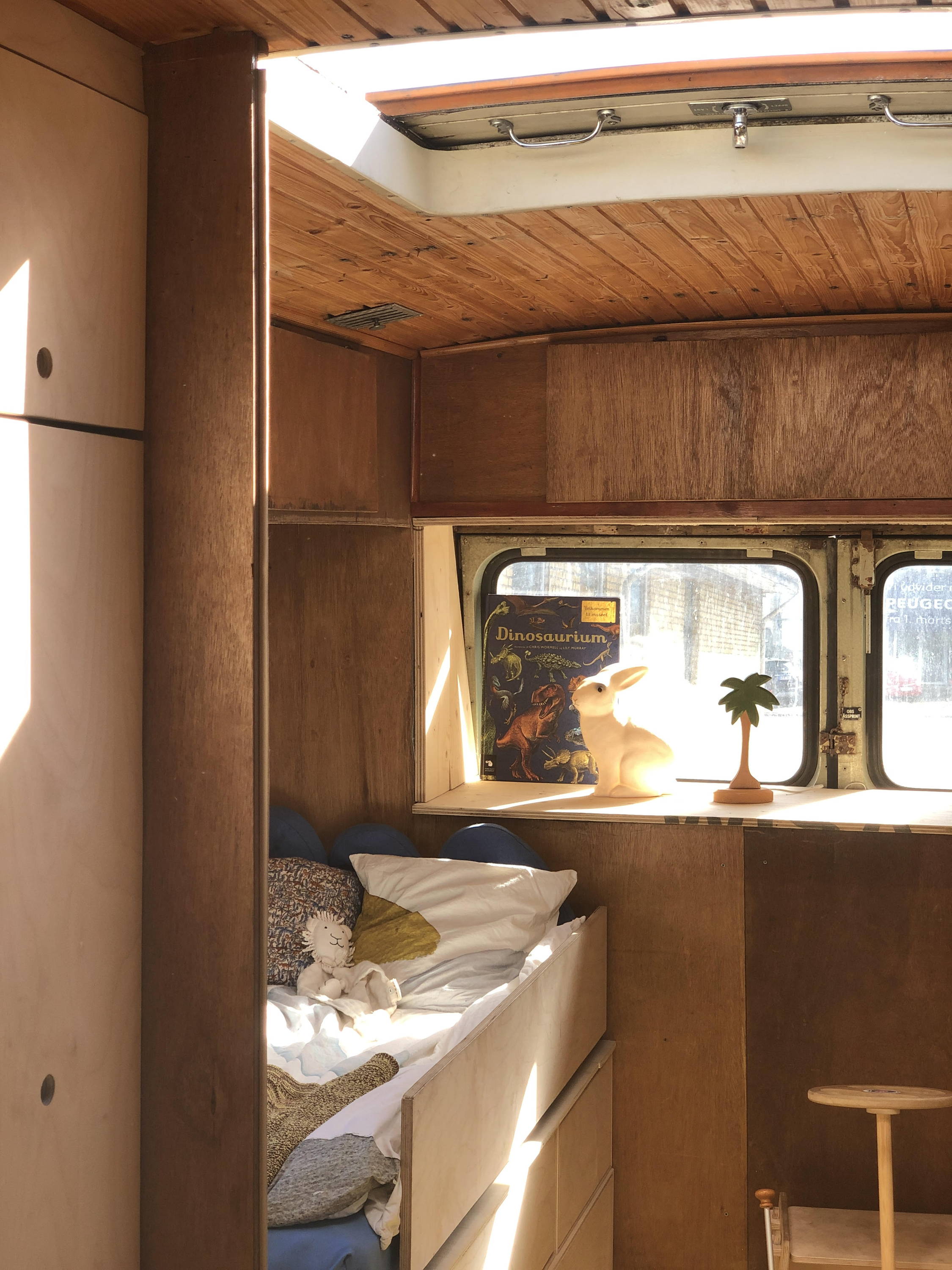 ---
What inspired you to buy a bus and sell your apartment?
It was about finding a way to construct our everyday life with a degree of freedom and ability to own our time a day, not least the time together with our children. It became a question of financial opportunities and to dare looking at life with new eyes. Is owning an apartment in the city, working two jobs to pay rent, bills and besides working on the dream of starting our own business, really the best way for us to live? We were looking to find a way of being together as a family with hopes of adventures in sight, seeing the world and give as much knowledge to our kids as possible through traveling. Those were some of the thoughts that ultimately made us walk the line.

We met an old couple one day, sitting in front of an old auto camper, sharing a bottle of wine near the beach, watching the sun go down. Emil started talking to them and the following two weeks he was non-stop by the computer searching for a home on wheels. Meeting them was such a fresh awakening. They've traveled the world with all their kids and for us this was truly the answer we've been searching for.
Your family have been doing a lot of downsizing in your belongings. How has that experience been and is it something you can recommend?
When deciding to move in to an old veteran bus we of course had to get rid of so much stuff, just to be able to live four people on 15 square meters.

But it all started a couple of years ago where we decided to clean up -and clean out. I think we somehow have a tendency to create our own little prison, filled with things we somehow got the idea, we can't live without. It's overwhelming to see how all that stuff slow us down and make it impossible to see a way out of a daily pattern or habits. Releasing us from a lot of insignificant things and clothes gave us freedom of mind. And a renewed energy to throw us into dreams and adventures. I most certainly can recommend it!
How do you prepare your children on moving to another country?

They have been with us the hole time, helping building the bus, going through toys, what to keep and give away. No doubt it has been a learning process, but also very challenging. Our girl Hilma is fortunately still too little to really understand what's going on, but our son have had to face some challenges. This haven't been a "joy-ride", mostly because none of our expected deadlines have succeeded. We have chosen to priority a shared room for the kids in the back of the bus. A place for them to feel safe and to have room for all of their favourite toys, books and clothes. I think that have made it all "okay" in terms of things taken way to much longer, then first expected. We are talking about traveling everyday and our son lights up, when talking about all the new places he wants to see. Especially eager to go to Paris, to visit his aunt, to try the elevator in the Eiffel Tower and to see dinosaur footprints in Portugal.
Why have you chosen Portugal to live in?

Several years ago I visited Portugal with my dear friend Camilla and I couldn't believe how amazing people where, the nature and lost-for-words beaches! Emil have never been and I've mostly just sold the idea to him with google images and the promise of sunshine all day and orange trees. At the same time, we can be together as a family while focusing on expanding our business by being close to our production.
What will and won't you miss about Denmark?

It's hard to predict what it is we'll end up missing the most, but it's certain that the change in relation to nature and the weather will be wonderfully nice, compared to the well-known Denmark. We've been so focused and busy the last year, that our investment in nurturing relationships with friends and family has had to be postponed. We'll probably start to miss them all very much, in the second we allow ourselves to sit down and relax. Portugal is not that far away and fortunately many of our friends are already making plans to come and visit us (we can't wait).
---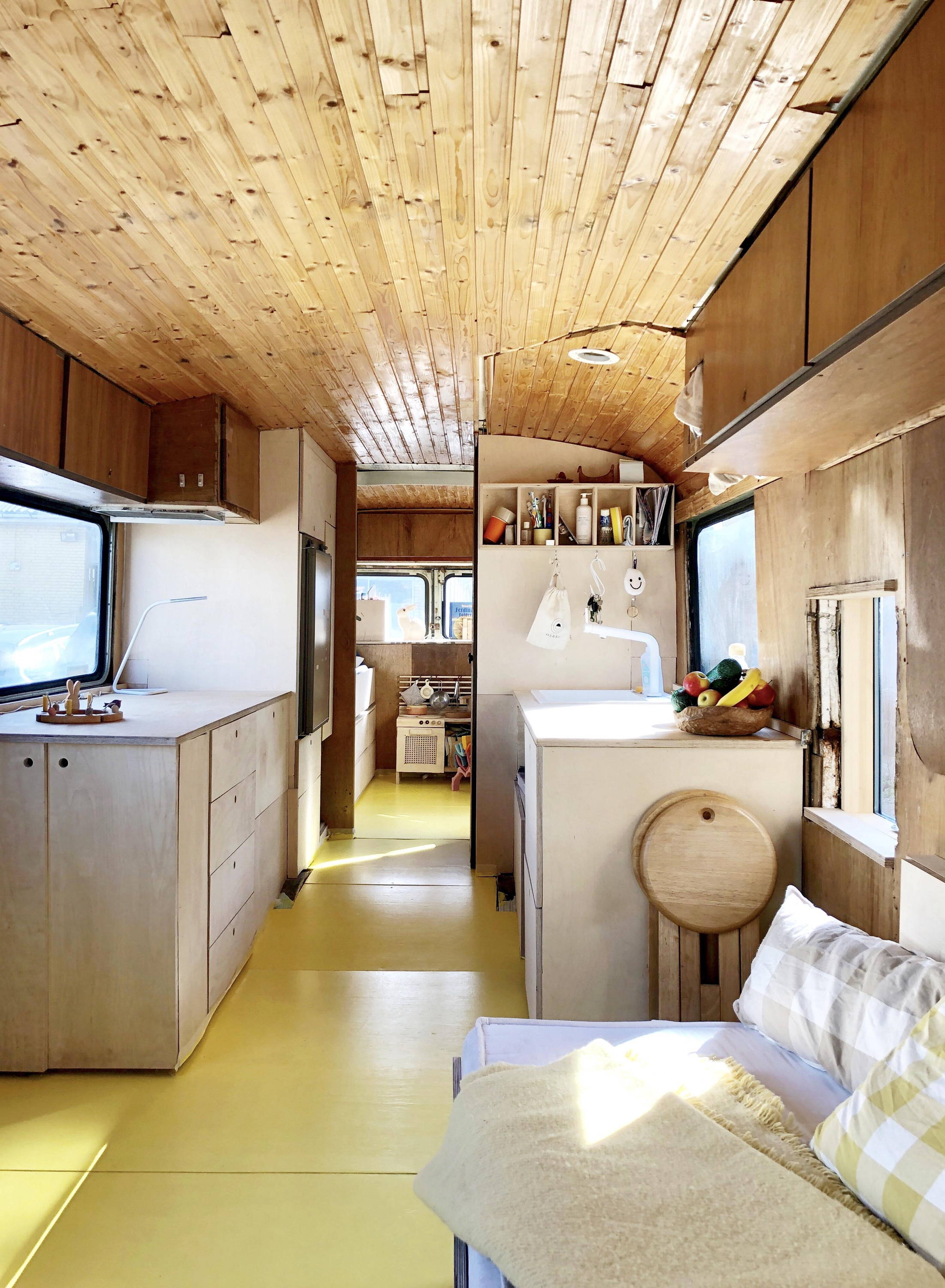 ---
How have you furnished your bus to meet your everyday needs of a family of 4?
The overall idea was to be able to create a safe space for our two children. A place for them to feel secure and have as close to a "normal" kids room. At least as close to a place that feels like their ordinary home. We knew we wanted to dedicate a lot of room for that particular matter, so we have built a room in the back of the bus, with lots of storage under there beds, for toys, clothes and so forth. We have cut away the things we knew didn't have to be a stationary setting. Having a portable toilet, oven and stove allow us to use our kitchen in many other ways. We can use the kitchen for creative projects, while all cooking can easily be done outside.

In terms of space, we have of course built a sofa, that can be pulled out to become a bed and a desk that works as a storage place and window sill. It's all about finding those great solutions, where the object can transform and have several functions. To us, the building and the development of different design solutions, is just the most fun! And the more function you can put in to one object, the more exciting it gets.
How will you continue your business living on the road?

We have outsourced our shipping, but will pretty much continue as usual. It's all about having a seriously strong WiFi connection, no dead batteries and lot's of sun to charge up our solar power!
What advise do you have for others who are dreaming about travelling the world?
This entrepreneur life/bus building/full time parenting has cost a little on the social and friendship "account", but at the same time adding new ones. Suddenly, we've met a lot of other entrepreneurs and it's just amazing to be able to share experiences with people in the same situation, dreams and with something at stake.

Currently I have no good advice in terms of traveling the world. Let me get back to that question in a year. Our bus is still in the garage and hopefully we're able to drive very very soon. I can only leave you with some advice regarding all that leads up to the travel part. If you want to see the world, do it! Make it happen. Sell everything you own, if you need money. I promise you do not miss much of it anyway.

If you want to start a business, do it! If people advise you not to, do it anyway. Your hopeless dreams, your inner passion, your untold talents. Take them serious, start being serious about what you want and who you are.
"The highest and most beautiful things in life are not to be heard about, nor read about, nor seen but, if one will, are to be lived".
– Søren Kirkegaard
---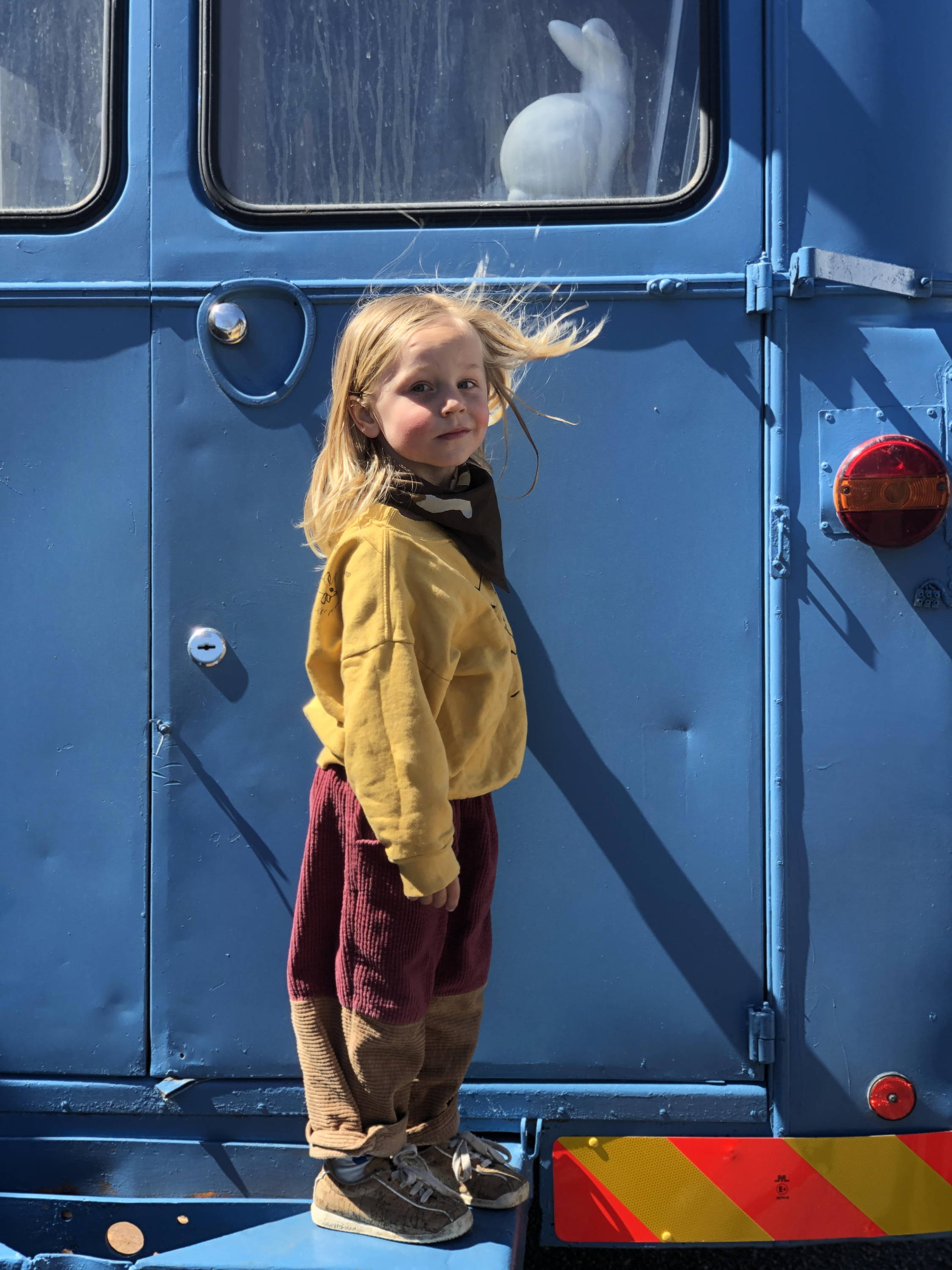 ---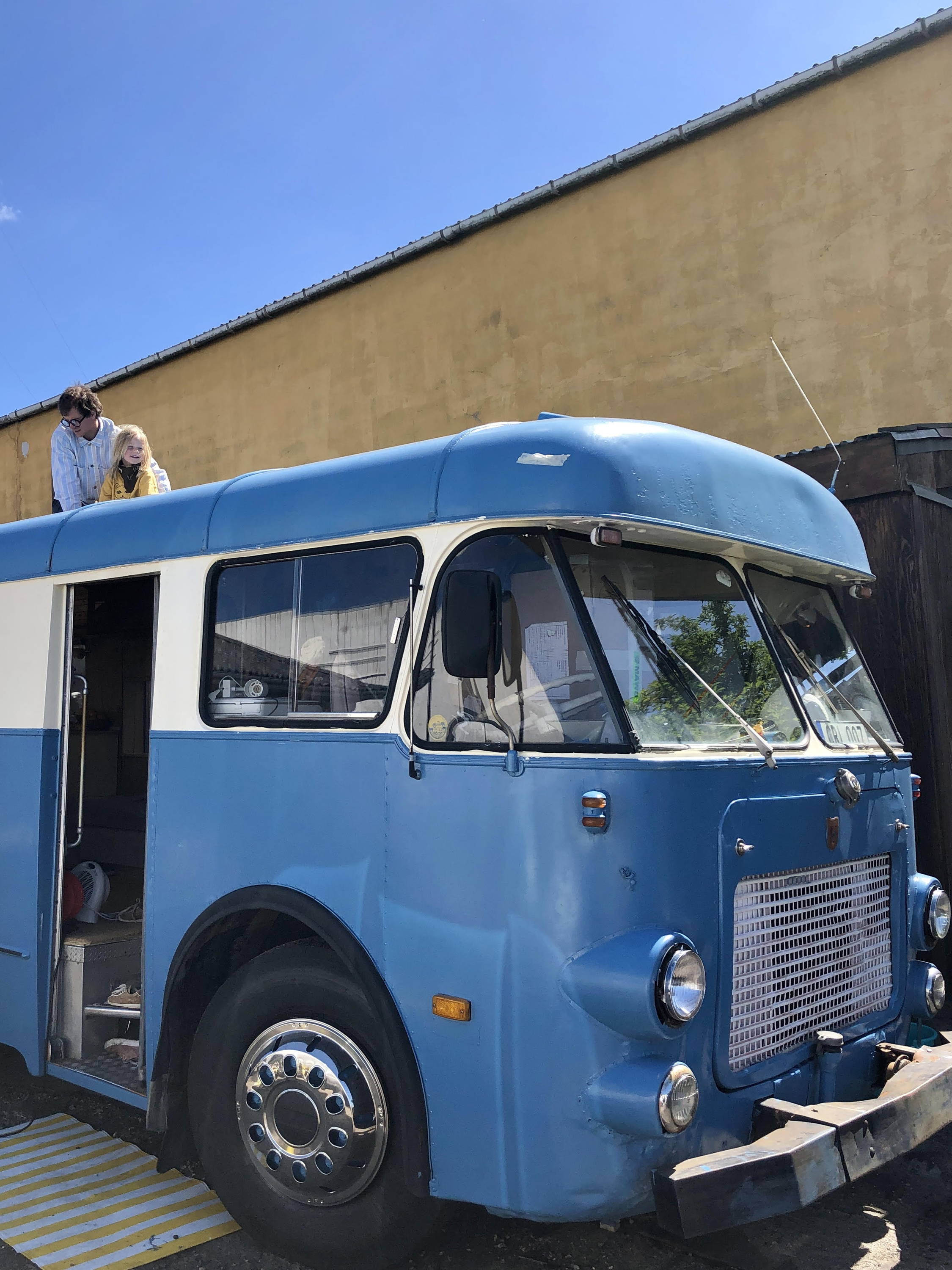 ---
We are grateful for the little sneak peak we got into the life of Josefine Ekstrand.
 
We hope you enjoyed it too.
---
Learn more about Josefine and Emil's company Leo Leo here.
Photo credits: Josefine Ekstrand.
---
✕