Free shipping in DK to a local package box ⎮ Free International shipping above 1800DKK
---
---
---
Christina grew up with a grandma who was a seamstress, hence her love for fashion started early in her life. When her grandma got sick, she started searching for answers to why people get sick and discovered, among other things, the tremendous amount of chemicals used in the clothing industry and the impact on our health hereby. She started a blog in 2010, researching sustainable alternatives to fast fashion, to show that a positive chance in the clothing industry was possible, hence joined the global movement Fashion Revolution.
---
Sustainable Fashion Activist
---
Christina is Country Coordinator at Fashion Revolution Denmark, who work tirelessly to inform and educate consumers on how to become sustainable fashion activists and how to ask brands questions about their production. She works with volunteers who also wants to make a difference in the fashion industry towards a greener future for us all, and she encourages us all to implement more sustainable habits.
---
---
---
Questions about Christina
---
Age: Haha, can I pass on this one?
Where are you from:

Amager, Denmark.

 

Favourite breakfast:

Chia porridge made with home made almond milk, topped with raspberries.

 

Favourite garment in your wardrobe:

Jeans.

 
Favourite travel destination: Maldives.
---
---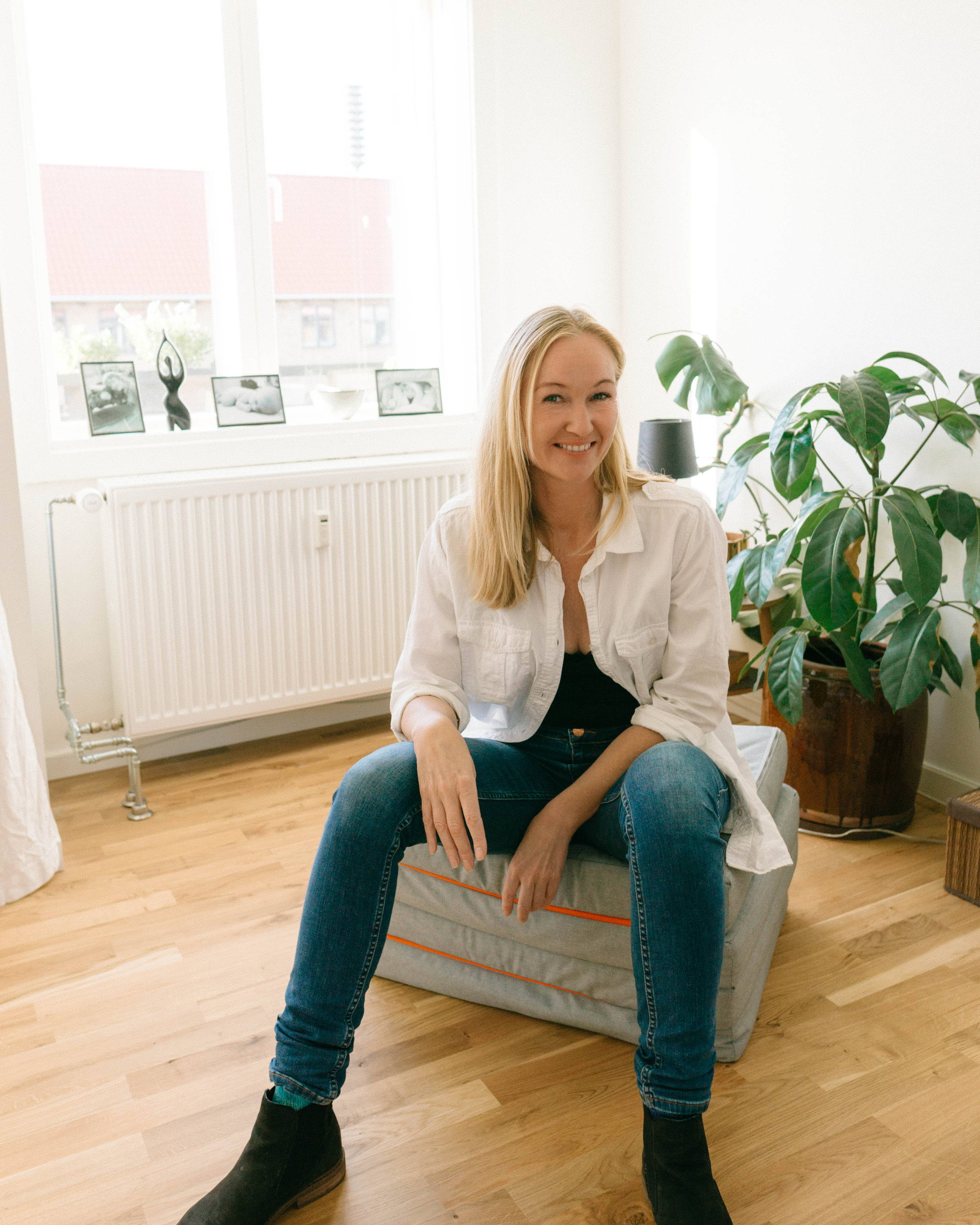 ---
---
---
---
How do you implement sustainability in your everyday life?
I almost always buy organic groceries. I rarely buy stuff. I actually live very minimalistic. I rarely buy clothes, and if I do buy something, it's either secondhand or sustainably produced.
Why is sustainability important to you?
It has almost always been important to me. I grew up with a father who had a special love for nature, and perhaps I learned early on that nature is an important part of life on earth. And I think I'm one of those people who care about nature and how other people feel. I understand the concept of sustainability as a way of being conscious and mindful about the imprints you make when you consume.
Any quote or wise words you want to share with us?
Buy less, choose well and make it last!
---
---
---
Tell us about yourself?
I grew up on Amager with some of the tough Amager boys. I was a bit of a rebel, when I was young, and generally didn't care for authorities, but I always had fun :) Later when I got an apprenticeship in the clothing store Nørgaard På Strøget, I changed my style and became a little more graceful.
I had a dream of designing my own clothes. My grandma was my biggest idol when I was a kid and I was often allowed to sit next to her in her rocking chair when she sewed clothes on the sewing machine. She was a seamstress for Nørgaard in her younger days. I loved drawing pretty princesses and generally drawing. I learned to sew but I was better at drawing.
My beloved grandmother sadly died of cancer when I was 18 years old and this probably started my search for justice and answers to why we get sick.
I started researching everything, and I found out, among other things, that our clothes have a lot of harmful chemical residues in them, even after being washed many times.
After that, my journey into the universe of sustainable fashion started and I started a blog, back in 2010, about my journey.
What was your dream profession as a child?
First I wanted a candy store :) Then I wanted be a fashion designer.
When did your passion for fashion start?
It started, all the way back to, when I was a little girl. My grandmother, and mother for that matter, were very nicely dressed women. They both loved to dress up. And my grandmother sewed lots Barbie clothes for me, which I drew.
What does fashion mean to you?
To me, fashion is definitely a playful universe. It's where you can dress up as someone completely different from who you are. A bit like when you were a kid playing dress-up, which I do believe we adults also need to do from time to time. To add a little color to our lives.
But for me, fashion is also art. And I'm sad that by time, fast fashion has made fashion more and more boring and exhausted the creative nerve in fashion. In addition, fast fashion has accelerated the destructive processes behind the clothing production.
How did you become aware of the consequences of fast fashion and the current fashion industry?

 

As I said, I wanted to be a clothing designer, but found out at a design school I went to that there was a destructive environmental pollution behind it. Moreover, I also understood, that the conditions for a fashion designer would be more difficult in the future because the large retailers would grow and grow.
---
---
---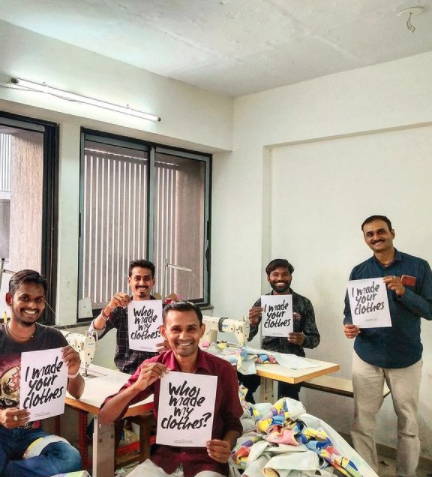 Our (new) supplier Herbal Fab participates in Fashion Revolution's ''Who made my clothes'' campaigns and introduce each their employees on their Instagram and website.
---
Fashion Revolution campaigning around the world.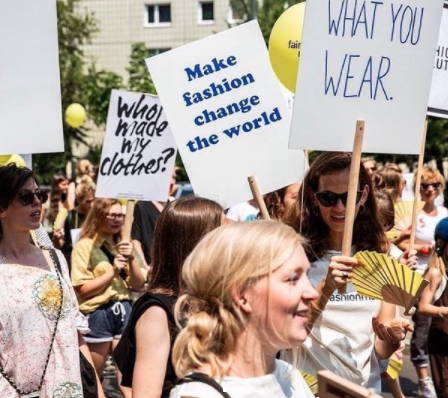 ---
---
You are country coordinator at Fashion Revolution Denmark. Tell us about your work here.
Yes, I blogged about sustainable fashion for a few years before I became Country Coordinator for Fashion Revolution Denmark. Today I lead a team of 10 cool team members. We work on projects that spread knowledge about the true image of the Fashion Industry. In other words, the problems with the very poor working conditions for the people who work in the lower echelons of a clothing supply chain, and the massive environmental pollution that also takes place.
We want to influence consumers to make better choices when buying clothes. We want to promote more transparency to make it easier for the consumer to know what and who they are supporting when buying clothes. I coordinate the campaigns from the UK to Denmark, and much more.
What do you believe needs to change in the fashion industry and why?
I think there needs to be a better communication between the consumers and clothing brands. There needs to be more openness around the production process. And then I believe the industry needs to zoom in a bit on their collections and work harder with the actual production conditions and textiles. So, produce less, but better, and more fair and environmentally friendly, and without sale.
What do you find to be the most challenging aspect of the current conventional fashion industry?
That the large clothing companies sometimes get so big that they do not have proper control over all the links in the supply chain, therefore it also becomes difficult for consumers to see through what's up and down. Especially large clothing brands have this problem.
What is the most rewarding aspect of working with Fashion Revolution?
Right now, there is not much because we are very much in the planning process. Therefore, it may seem as we aren't visible :) But I think it's nice when students or volunteers say that they think what we do is a great job, and that they want to be a part of it - That they have missed something where they actually can make a difference, and become fashion activists together with other likeminded people.
What role do you think the government, brands and consumers have in making a change in the fashion industry?
I think politicians are taking it too lightly that we are in the middle of a climate catastrophe. It's as if they are not aware of that we only have 10 years left, to save the planet. So there should really be an effort against the overproduction of clothing that currently takes place. 24 collections a year is, in my opinion, completely insane.
Brands also have a responsibility for the overproduction and the waste that the fashion industry brings with it. I also think there should be stricter requirements in terms of sharing information about how brands get their clothing manufactured.
Consumers have a responsibility to wear their clothes for a long time, and not just buy and throw away in one go - at the same time they have to make greater demands on clothing productions. 
---
''Due to the talk about greenwashing, unfortunately many brands choose to withhold their information, which I believe is a shame!''
---
Any advise to consumers who want's to shop more consciously?

 
Be curious. It's a good start!
Be curious - find out - and do something!
...And do you have any advice for brands on how to make their information easier to understand and viewed by consumers?
Clothing brands should write everything they can state on their website. They should also include the information more on their social media. There is a lot of talk about greenwashing, which is both good and bad, but I do not want to miss the production informations, so I just think the brands should get started telling us everything they do in their hassle of making a piece of clothing. Then I can decide for myself whether they do enough or not.
Due to the talk about greenwashing, unfortunately, many brands choose to withhold their information, which I believe is a shame! But at the same time, it is important that brands not only deal with a small part of their production. They must have the expertise required to deal with the entire production.
Clothing brands should also join Fashion Revolution's campaign ''I made my clothes'', ''Who made my clothes'', What's in my clothes'', and support the Fashion Revolution in our work and get involved in our Fashion Open Studio.
What is your vision for the Danish Fashion Revolution?
That we can continue our work and be allowed to make even more exciting programs and campaigns. And that every school student one day knows us, and knows we are there for them, and that we will fight for a better future for them.
What Fashion Revolution events have you planned for us in 2021?
Unfortunately, I can not reveal it all yet. But something we are going to launch, is the Fashion Open Studio, FOS, which was launched in the UK in 2017.
---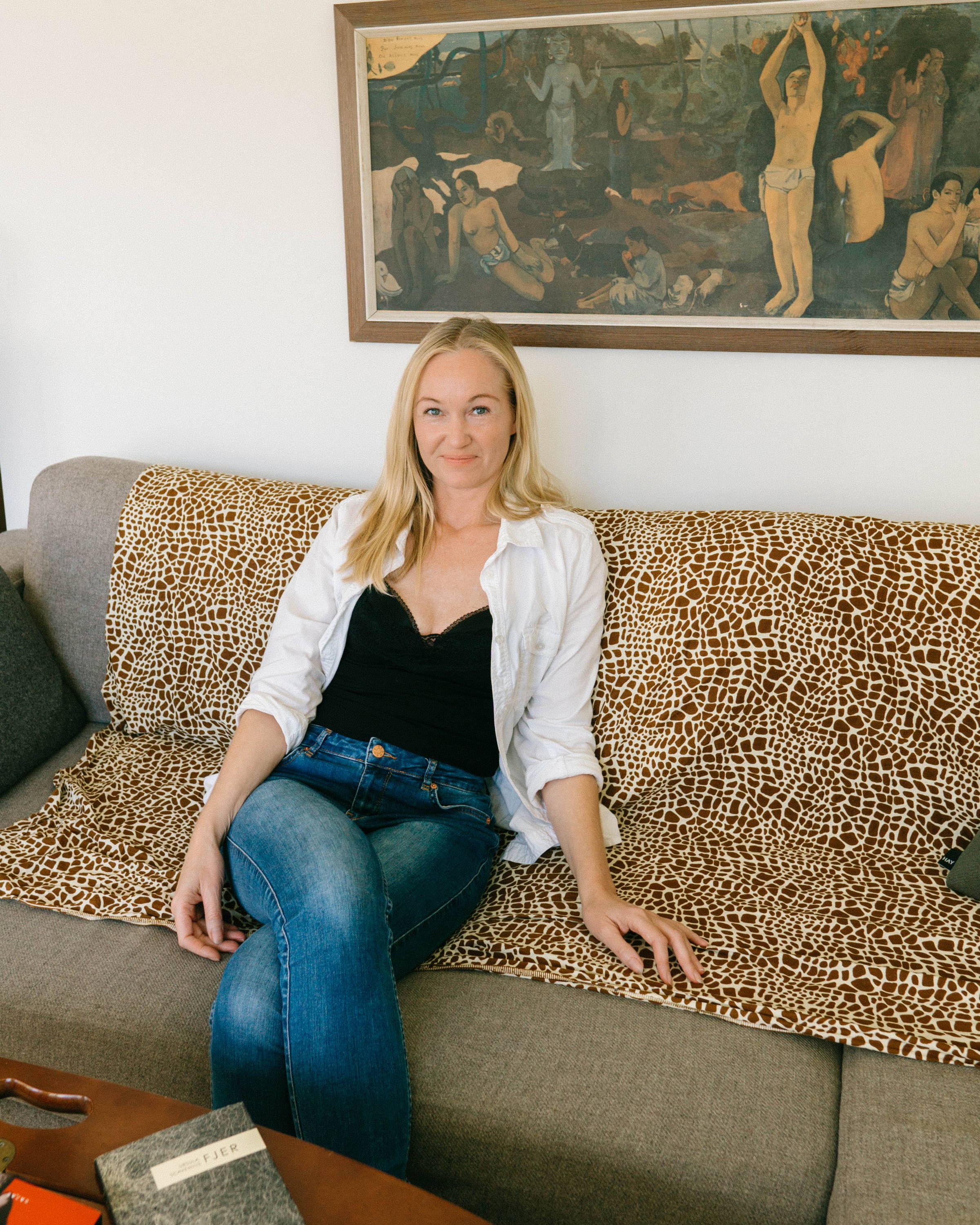 ---
We are grateful for the little sneak peek we got into the life of Christine Neubert and her work with Fashion Revolution.

We hope you enjoyed it too.
---
Learn more about Christina on her IG here.
You can support Fashion Revolution on Instagram here:

Or you can learn more about Fashion Revolution on their website and how you can take action and support their organisation here.
Photo credits: Gritt & Borris
---
✕