Free shipping in DK to a local package box ⎮ Free International shipping above 1800DKK
---
---
---
Caroline is a dear friend and was in class with Mikkel at the Danish School of Media and Journalism. Caroline quickly started her freelance career after school and moved to Bali, Indonesia, where she currently live her life as digital nomad. She is creative and talented, always creates new projects, illustrations, motion graphics and animations which she shares on her website and social media. She is fun, down to earth and has a big heart. She is a big inspiration to both of us!
---
---
Creating something from scratch, feeling your ideas come to life and expressing yourself, is something we know very well. The constant intuitive search for new ideas, popping up anywhere you are, and when you least expect it, urges you to create from your heart, and keep creating. As an illustrator and animator, Caroline is creative and creates every day.
Currently living in Bali as a digital nomad, she has in a short amount of time, made herself known in the creative world with her eye-catching and colorful mixed cel-animations and illustrations. She has a great passion for our Mother Nature and value sustainability in her every day life no matter where in the world she currently is.
---
---
---
---
Age: 27.
Where are you from:

Hørsholm

, Denmark.

 

Favourite breakfast:

Scrambled eggs, bacon and pancakes with berries and syrup.. Yumm.

 

Favourite garment in your wardrobe:

My oversized Mickey Mouse t-shirt or my pizza pyjamas.

 
Favourite travel destination: Japan or New Zealand, can't decide.
---
---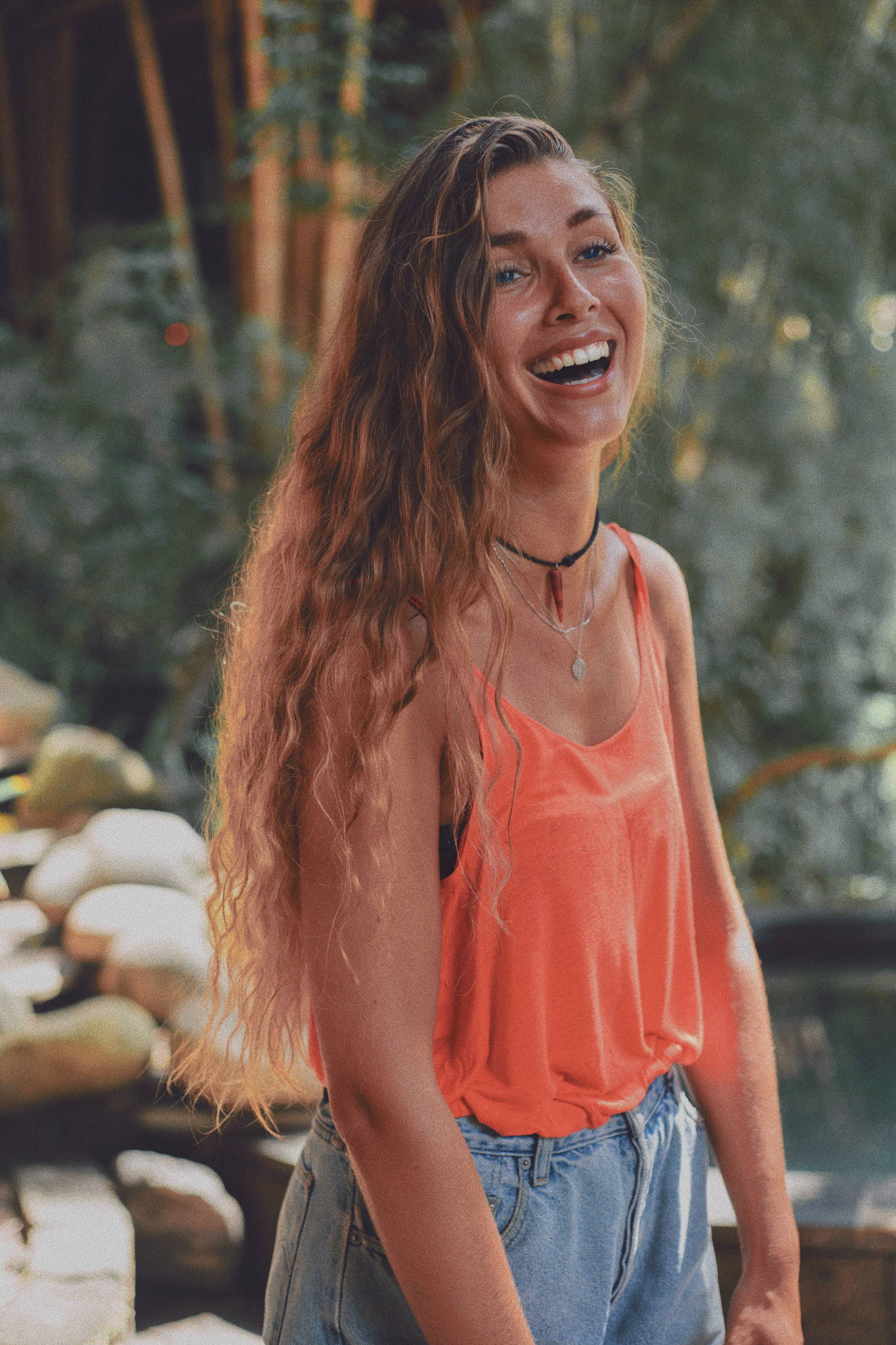 ---
---
---
---
How do you implement sustainability in your everyday life?
I live in Canggu, Bali at the moment, and they're very conscious about sustainability here. Where I grocery shop they only use paper bags or palm leaves to pack the food, I have refill glass cups with me, when i buy grains and such, I always bring my own tote bags, so I don't use plastic bags, I try my best to eat vegetarian most of the week, I buy most of my clothes in thrift stores or flee markets (try not to shop too much), and I care about the products I use - where they come from and how they're produced.
Why is sustainability important to you?
I love this planet. I love nature, and I am grateful for this life and what the earth provides us - I want the future generations to enjoy all of it too. Also, I find the "old ways" of treating our planet and creatures cruel. We need to change, cause what we've been doing is unacceptable.
Any quote or wise words you want to share with us?
Educate yourself for the sake of your own life and all others.
---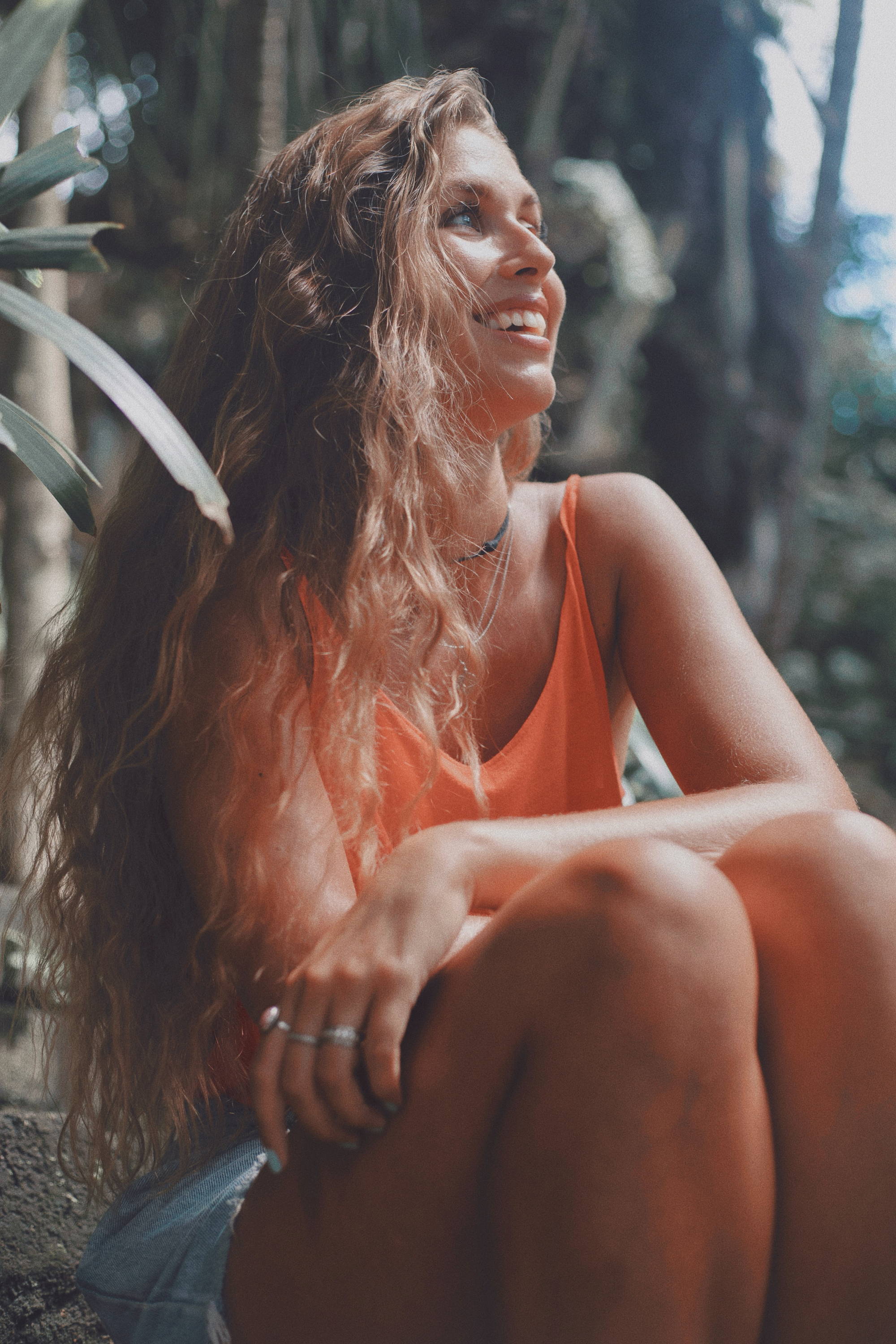 ---
---
Tell us about yourself and where you grew up.
I am a 6,1 f tall viking from north of the wall, Denmark. I grew up on the country side north of Copenhagen, a town called Hørsholm. My mom and dad split up when I was 4, so every week I would switch between staying with them almost until I moved to California in my gap year after high school in 2013. I've always been creative, but I was confused where to put my focus until I finished my education at DMJX in 2018. At that time i discovered, that I'm truly passionate about storytelling and animation. So today I am a freelance animator and motion designer based in Bali and absolutely loving what i do.
What was your dream profession as a child?
I went through many faces.. I wanted to be the fourth member of Power Puff Girls for quite some time. Then I wanted to be a spy, then a psychologist and then a film director.
What did you study and where?
I studied film and art at Santa Barbara City College in California for one year, then i studied Interactive design at The Danish School of Media and Journalism for three years in Copenhagen with 5 months exchange at QUT in Brisbane Australia studying webdesign and motion graphics and my internship in the heart of Tokyo for 5 months as well.
What made you fall in love with illustration and animation?
I've always loved drawing. I was a shy kid, and to escape my troubles I always drew or watched either fantasy or horror films. I guess I've always loved the idea of escaping our reality - always loved Harry Potter, Lord of the Rings and everything from studio Ghibli, everything that didn't exist in our world. And a pen and a paper can help you create your own reality - that counts for animation as well. And since my brain is not made for a doctors degree, where I would be able to save lifes, I discovered, that by telling stories and having a voice through animation and illustration, I could still be able to make a change and help people. So that was gonna be my super power, since my brain is visual.
---
---
---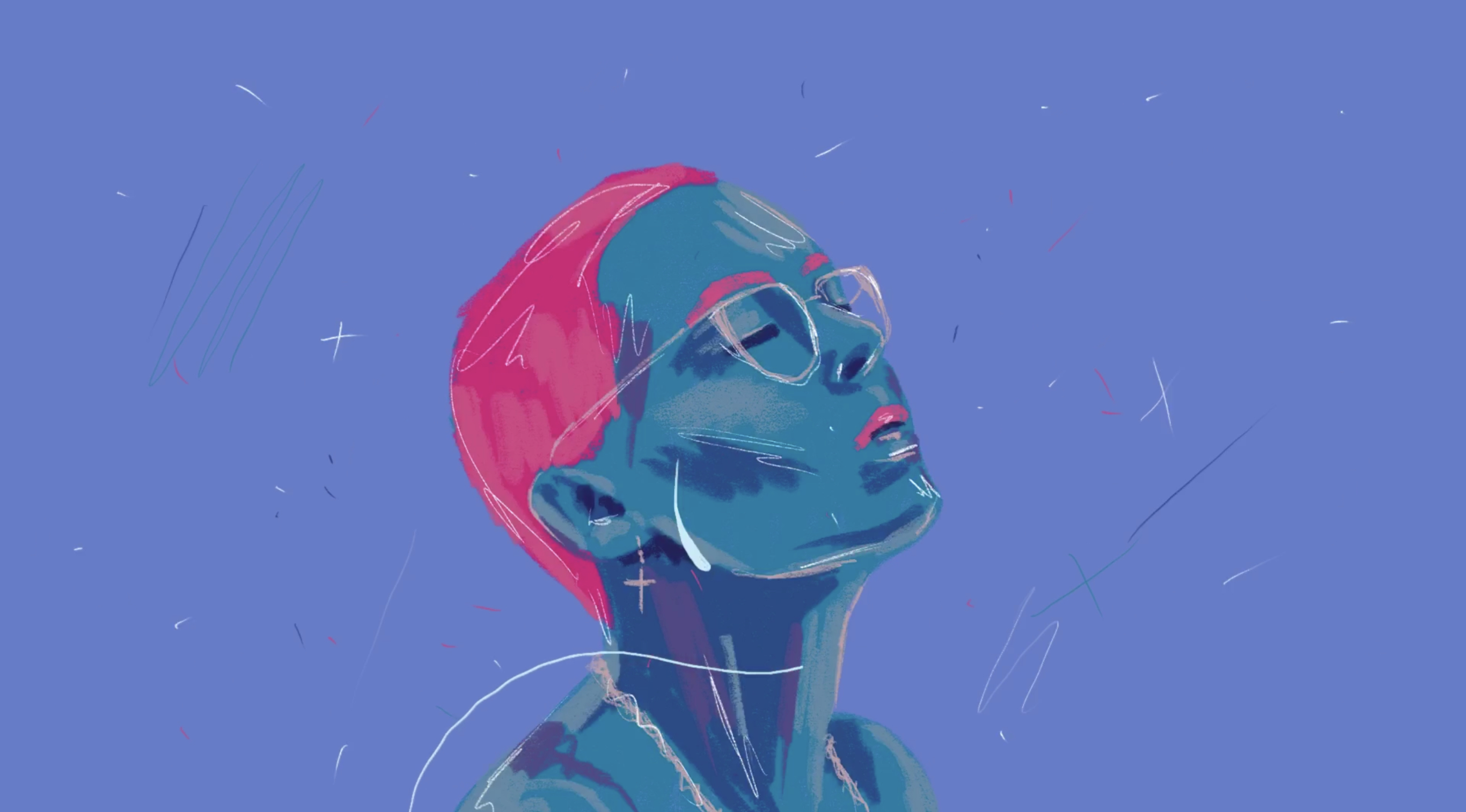 This is a rotoscoped style frame from my cel animated visuals for the Danish singer Moody's live performance at TV2 Zulus Danish Rainbow Awards 2019. Moody is a friend and an inspiration, so this animation actually startet out as a gesture to her and the release of her documentary, but then it received so much good feedback and ended up as her visuals at this live performance in television. That was kewl.
---
Mixed media cel animation on video as a tribute to Adobe, who invited me to their Adobe Max Conference in LA in November 2019 as an Insider along with 100 other talented Adobe artists from all over the globe. That was such a huge experience and a milestone in my creative career being able to attend this huge gathering of creatives, learning from the best in the business and getting inspired like never before.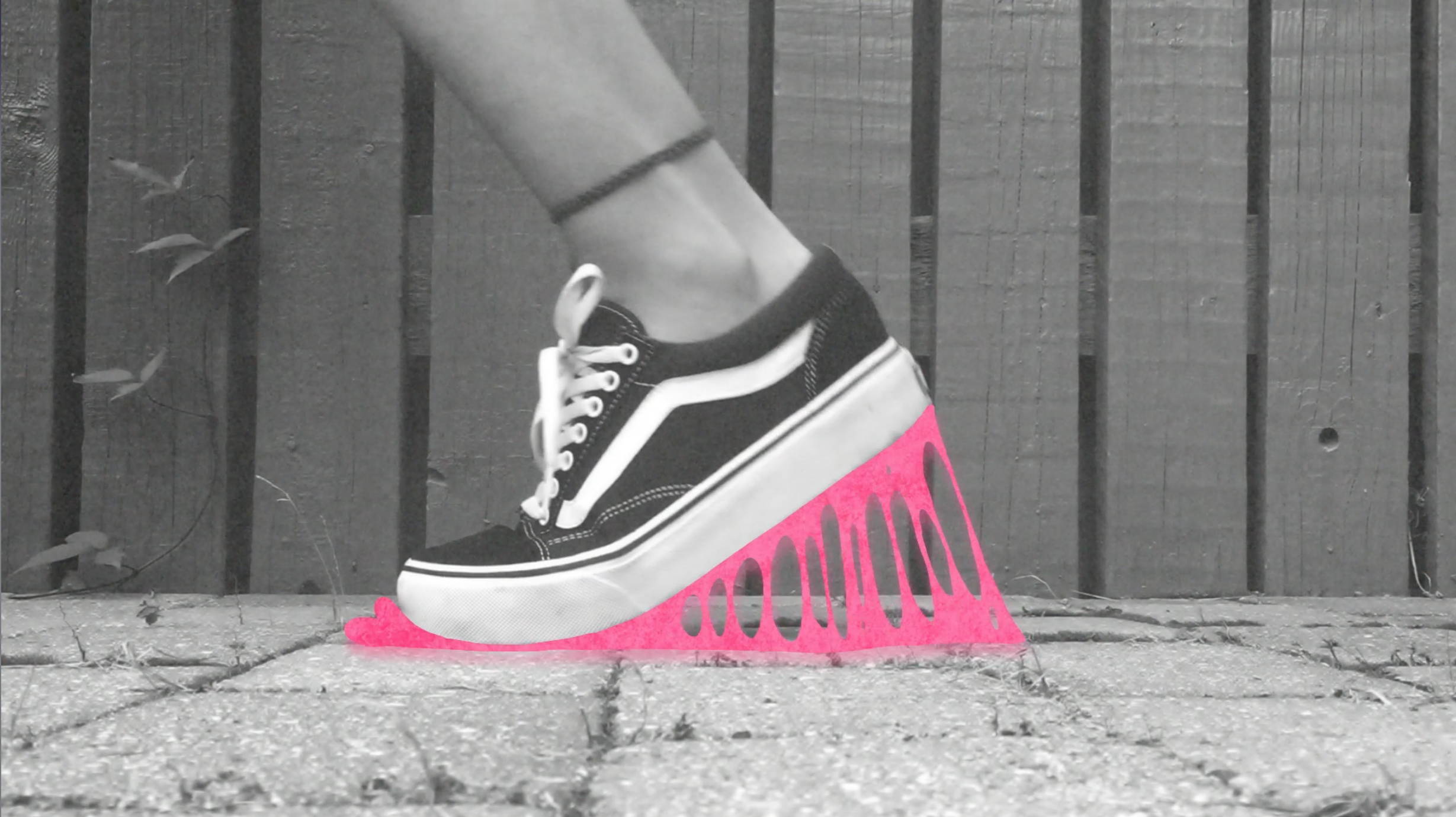 ---
---
Where do you find inspiration for your work?
Honestly, everywhere.. I really enjoy photography and film. So a lot of my inspiration comes from film, especially 80's films and music videos. It can also come from a candy store, a beer label or my granny's farm. It's very diverse. But I of course also find a lot of inspiration from instagram and pinterest. Love scrolling through other creatives content.
Is there a media you prefer to work with and if so, why?
I adore mixed media animation, where i mix photography and cel animation. Referring back to my childhood and the idea of creating another reality - adding another abstract layer to something existing is really fascinating to me.
Which work/assignment hare you most proud of and why?
That's a tricky one. I have many favourites. I must be honest though.. because I was so unsure about what to do after finishing my education at DMJX, I went all in on my portfolio on instagram and shamelessly used hashtags for the right people to notice me and to receive feedback on my work, so I could grow as an artist and find some sort of style. I didn't realise and would never have thought, that it would lead me to my freelance carrier and so many incredible opportunities. when I in 2019 was approached by Adobe and was offered a spot at their Adobe MAX conference in LA, it really hit me, that I had actually created something, that I was being rewarded for now. Something people appreciate, and something that gives me the opportunity to travel and meet incredibly talented people. All because I started putting myself and my work out online. After that, Calvin Klein also approached me through Instagram, and I have to admit, that I am also very proud of that one.
When did you start your freelance career and what made you choose freelancing over a permanent position?
I started my freelance carrier by accident after finishing my education. I didn't really plan it, but when I suddenly started to get jobs through my Instagram account, I figured I wanted to give that a shot. I've always been a lone wolf, and I really enjoy being able to create most of the content on my own - when that being said I also love collaborating with people, but being my own boss, being able to work on a sunday and not on a monday, gives me the freedom that I want in my life. And it gives me the freedom to travel where ever I want with my computer and iPad in my backpack. Thats the best life for me.
In the beginning, how did you find and get jobs as a freelancer?
Usually you would create a portfolio and a show reel and then reach out to a ton of clients. I think my situation was a little unique. I came out of a long relationship before I graduated, and I was really heart broken, so to escape my pain, I went all in on cel animation. Threw everything out on my Instagram and started to slowly grow an audience. So when I graduated, I took a few months, where I experimented even more, and suddenly the job offers started to come to me, even before I was ready for them. I don't want to sound like a brag or anything, but I didn't really find any jobs.. The jobs kind of found me. Bless the internet.
What has been the hardest by being a freelancer?
Believing in myself. Being on my own having to make all the creative decisions and communicating with important people, who have been in the industry for long, was really terrifying to me. I'm very hard on myself, so sometimes I take the negative feedback too personal, because I always feel like everything I create is like a tiny bit of myself - having people judging a piece of you can be rough - at least that was my feeling in the beginning, but now I know, that I shouldn't take it personal.
Do you ever have any fear of getting enough jobs for your business, and if so, how do you deal with it?
Actually I haven't really felt the fear of that yet. I've been very fortunate I think, because I've had jobs coming in almost every month since I graduated, and I always put most of my income aside for my savings. I don't need much - I'm not interested in fancy things, and for now I'm single and only have to take care for myself.
Right now I'm living in Bali, where everything is so cheap as well. But I know this is a common question for a freelancer, and I probably should worry a bit more, but for now I'm just grateful, especially because I still have a lot of work even in the times of corona. but I have a list of dream clients ready for the day, the struggle hits me, and I am in need of more work. Then they will hear from me."
---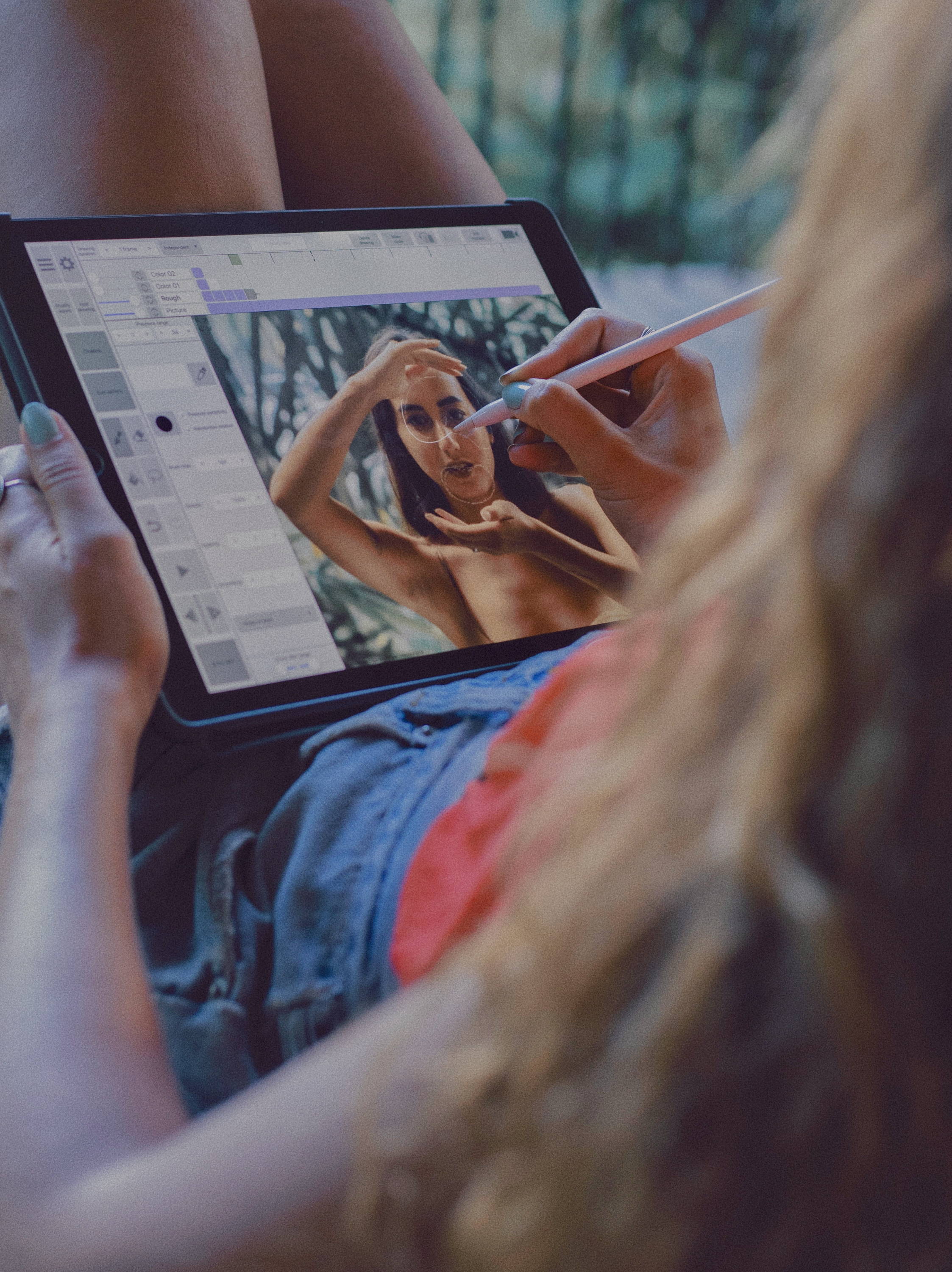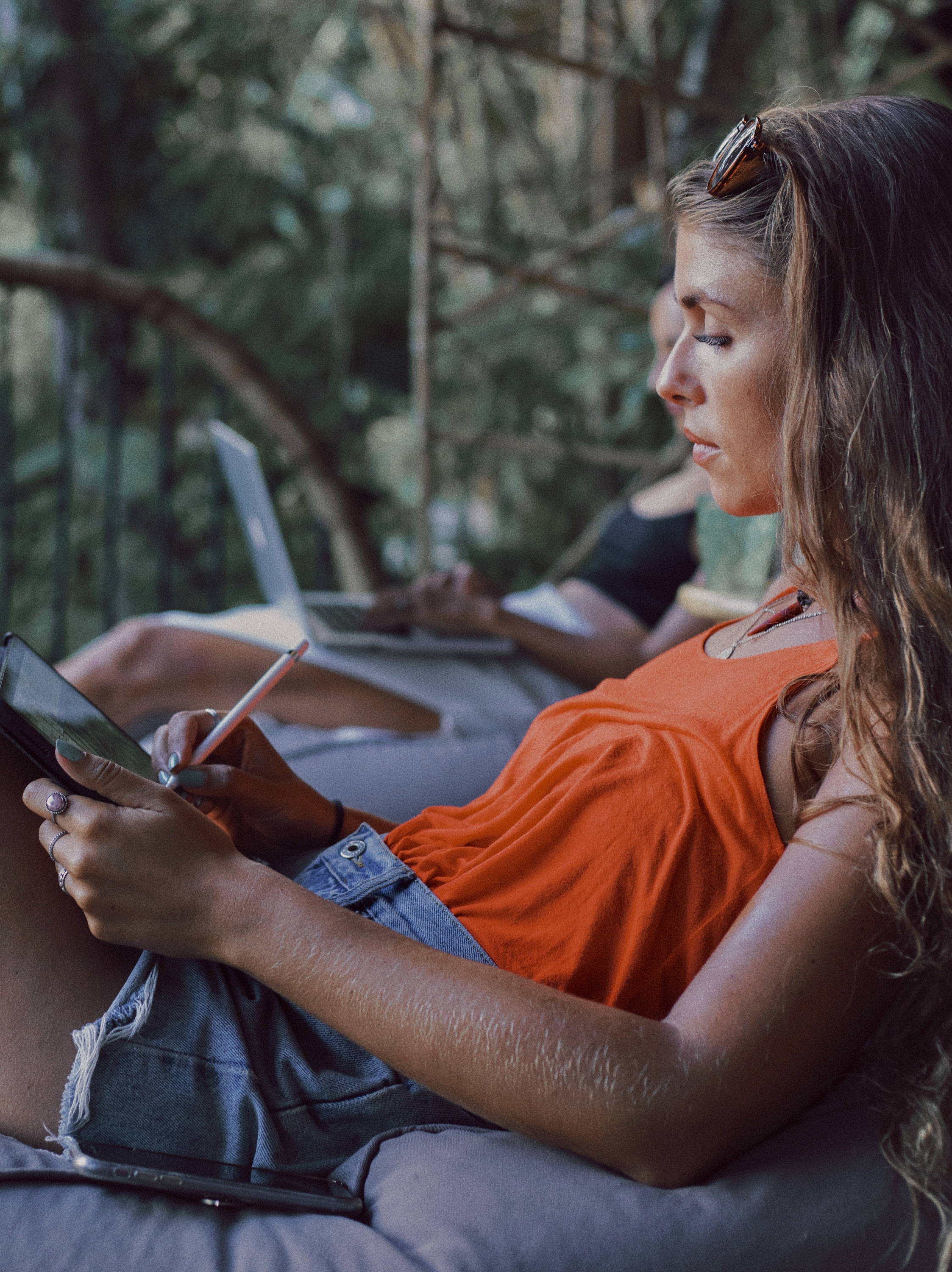 ---
You have got a large following on your IG account. Do you think IG can help freelancers get more jobs or what is your experience with showcasing your work and art on social media?
Oh I definitely believe that! If you didn't already sense it in this interview, I'm very thankful to the internet - especially Instagram. I can thank Instagram for where I am right now. I would never have been able to do, what I do without it. I have very mixed feelings about instagram though, because its a powerful tool, if you have a big following, and many of these influencers with a huge influence use their voice in a wrong way, I think. The "look at me" culture is toxic, so I am trying my best to use my voice in a better or funnier way to spread important messages, when I can, while also trying to survive and get food on the table. But yes, Instagram is very powerful, and I always recommend creatives to go all in with their portfolio on Instagram. Cause you can cross boarders here and so many doors will open for you, if you put your work out there. Just use your voice carefully - think like this: "do people leave you page more happy or more sad"? (This one especially goes out to all the filter-influencers).
Do you have any advice to others who want to start as freelancers?
Create a portfolio (both a website and one on an online platform like Instagram), reach out to people, do collaborations, get your name out there. Don't be afraid to fail, cause you will. I've been falling face first many times, but its a good way to learn. If you're a motion designer check out The Freelancers Manifesto by Joey Korenman - a great tool to prepare for the freelance life. Also, the safety of a fixed salary each month is addictive. Many people don't know any better than to follow the wheel, but if you work hard, you'll be able to get so much more freedom being a freelancer AND you'll be able to get paid twice as much or more. I cant recommend the freelance life enough.
Last year, you left your home country Denmark and started a new life as digital nomad in Bali. Have you always wanted to life in another country?
I have always loved travelling. I have lived in California for one year, in Brisbane for 5 months, Tokyo 5 months and now Bali since november 2019. I absolutely LOVE travelling and experiencing new cultures. No, if you asked me a few years ago, I was ready to settle down with my current boyfriend and get an office job somewhere and maybe travel once or twice a year. But when my freelance career kicked off, and I only had myself and my wishes to please, I found an opportunity and grabbed it. I wish to have my base in Denmark within a few years, but I definitely want to travel wayyyy more than twice a year (in a conscious way of course, we gotta think of the planet).
Why did you choose Bali as your new home base?
I knew Canggu was a base for a lot of digital nomads, so it would be a place of many like minded people and inspiration. I also discovered, that it's a very safe place for women travelling solo, and it's also very cheap, so I would be able to experiment while working - more freedom again. Aaaand also it's very warm and sunny - a complete contrast to Denmark. Oh and it's also very spiritual place and many people care about our planet and want to do better.
How did you get settled in Bali and how and where did you get new acquaintances?
I just found a place through Airbnb before I left, and regarding new friends, I discovered some facebook groups with events for expats in Canggu. Now I have a great group of friends here, and I'm very thankful. Another good way of meeting people in Canggu is by joining a co-working space. There are many like these in Canggu area, where expats work remotely. They also offer events, where you can mingle and get to know new people from all over the globe
What has been some of your favourite moments as a digital nomad in Bali?
The fact that I can jump in the pool or drive on my scooter to the beach before I start my day (before corona). Go for walks on the rice fields and visit waterfalls in the weekends. I love Denmark, but we don't have the possibility of swimming with free turtles every second weekend if we want to. I can also eat out every night, which is the greatest gift, when you're not good in a kitchen.
..and what has been some of the hardest moments?
I do miss my family and friends, and after corona hit it has definitely increased. It's tough not being able to just visit your family in the weekends. But I've been very lucky - both my mom and my two amazing friends have visited me here.
---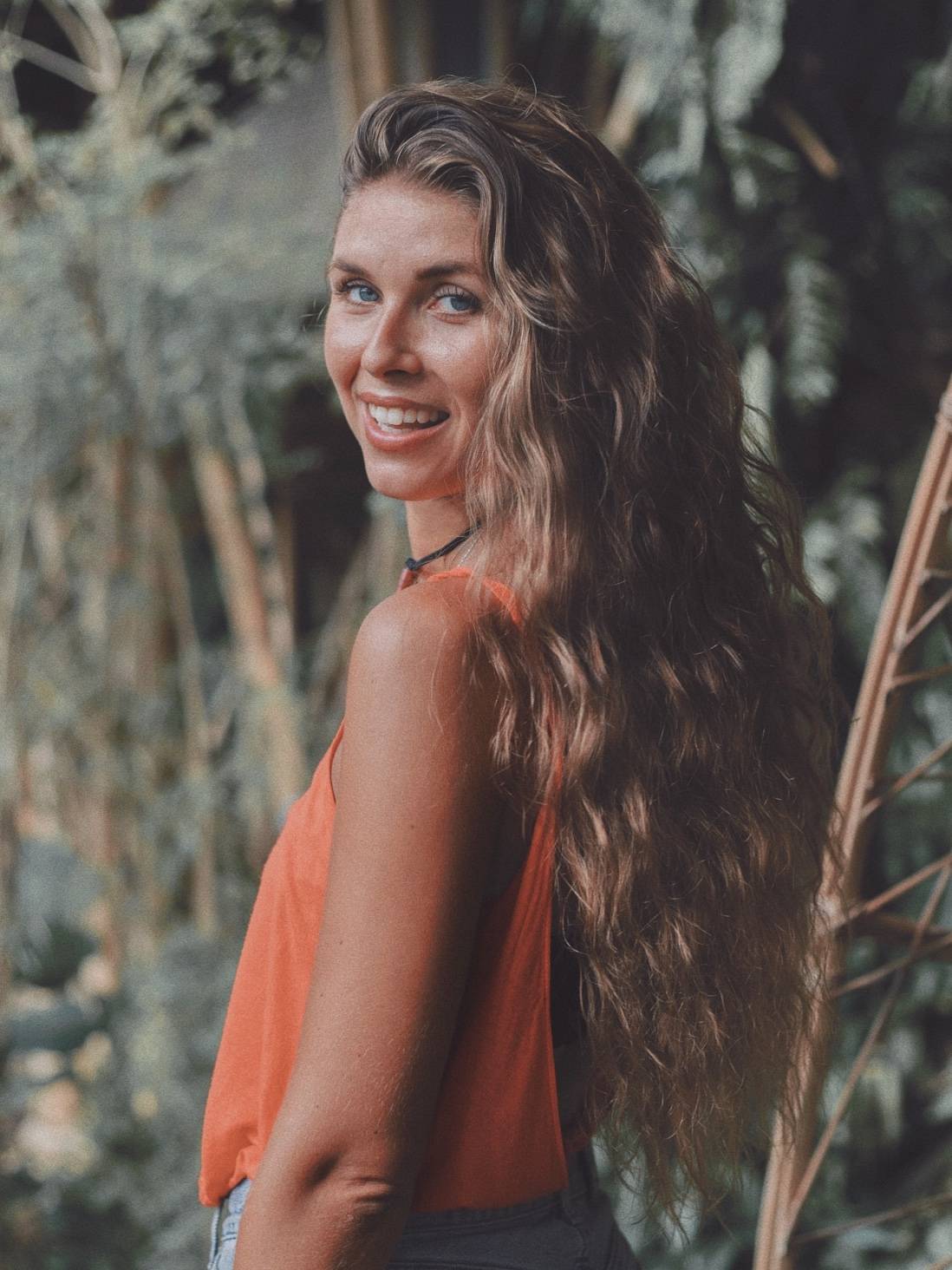 ---
What does a regular day look like to you in Bali?
Before corona, I would get up, eat breakfast either by the pool or at a cafe, work, take a break and go for a walk on the beach or by the rice fields, meet some friends for a cheap delicious dinner, and then head home to watch some horror movies or work on personal projects. But it really varies, because i also sometimes don't even get to leave my room, because i have too much work. The struggle is real, when you have a deadline, but you see all your friends go to the beach and drinking coconuts.
How do you balance work and spare time in Bali?
It's hard sometimes. Honestly I'm really bad at balancing it. I tend to work too much and forget about social life. I tend to be too focused on my work, so when I am finally free, I am too tired to answer DM's on instagram and even calling my friends and family. That's something I'm working on and hopefully will be better at in the future. I also try to follow a schedule - recently I've been writing my daily to do's down on paper, and then I cross it off when I finish it. It helps. But yes you really need to be disciplined working while living in a place like Bali, and even after 8 months I'm still not a pro at that.
Do you miss your home country, friends and family, and if so, how do you deal with it?
I do yes. I try to call as much as I can, but I also do enjoy my journey here - otherwise I wouldn't be here. I've also lived in other countries before, so maybe I'm more used to it. actually instagram is a good tool here as well, cause it makes it easier to follow along in your friends and families lives at home.
Have you any advice to others who want to work as digital nomads?
Have some savings ready and have a plan, to start with. Your plan might change, but know what you want from you journey to have some safety while you get used to the new lifestyle. Cause its a big change from an office job. Also, just do some research on how other people have done it. I did that from my granny's farm before I left. And very important.. You will never be "completely ready". There will always be something holding you back, but don't let the fear of the unknown get to you. You can always go back home and get an office job again. But you lose all the opportunities you don't seize. Come be a bangers granny with me, when we're 105 and tell crazy stories about our adventures. If you have just a tiny little feeling, that tells you to do it, id say DO IT!
Where do you see yourself in 5 years?
Scary.. I hope to have a house somewhere on the countryside of Denmark, where I have my office, a gorgeous tall boyfriend, who's adventurous and hungry like me, a few chickens, so we can eat scramble egg in the morning, aaaand maybe we're thinking about having kids at some point. And then I would love to travel a ton with my work and be able to work with mixed media animation for big brands while still working on my personal projects. I'd love to be able to teach animation as well some day. Honestly I just hope, I am happy and passionate in 5 years still. May that never change.
---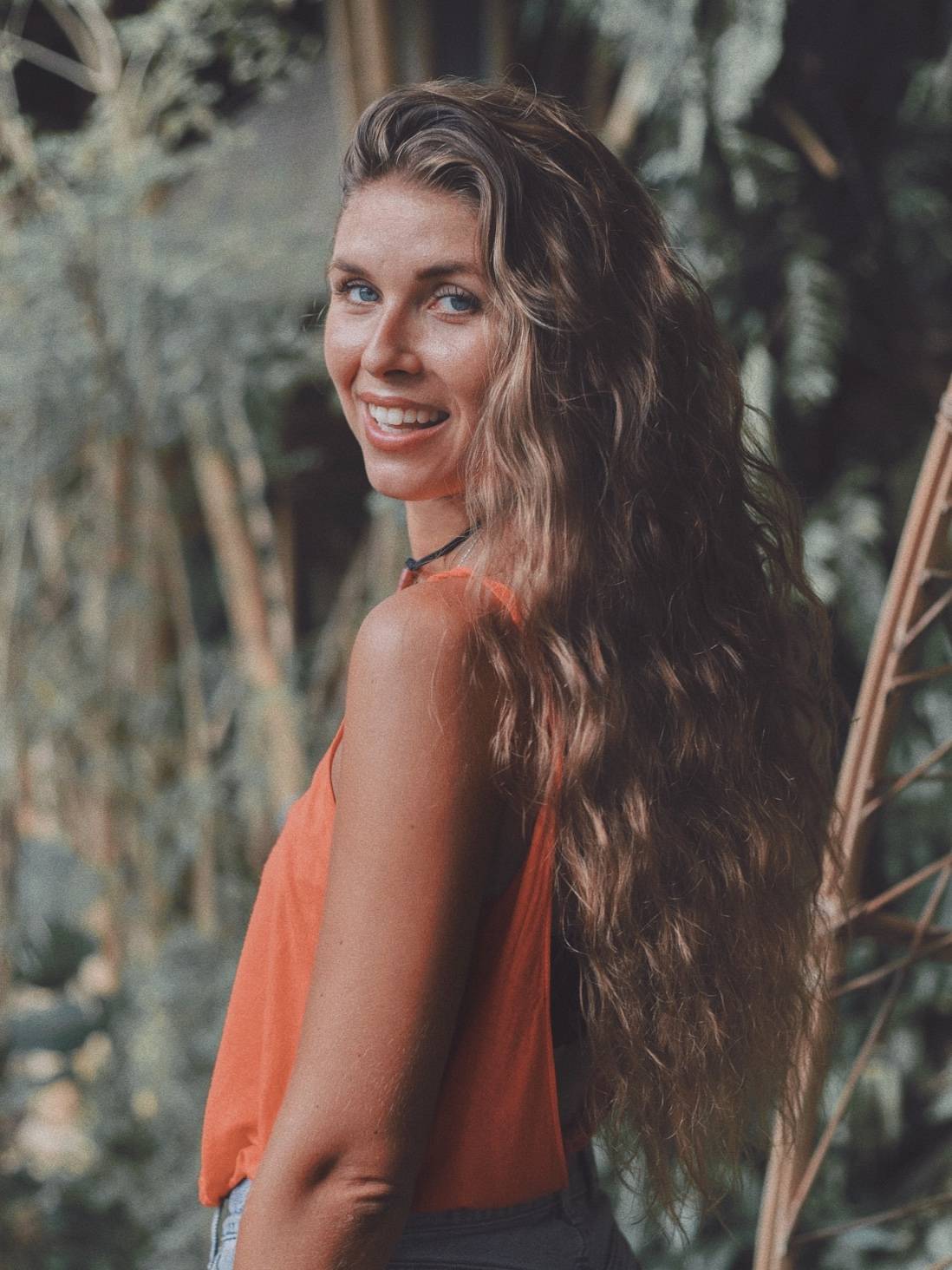 ---
We are grateful for the little sneak peek we got into the life of Caroline Kjellberg.

We hope you enjoyed it too.
---
---
✕