Free shipping in DK to a local package box ⎮ Free International shipping above 1800DKK
Anne van Veen &
Elrike van Spronsen
---
---
---
Anne and Elrike are behind the well-known sustainable blog FairFriday.nl where they share their view on sustainable fashion and lifestyle products, shopping guides and how to be conscious about your everyday habits. Their style is inspirational and shows that sustainable fashion can be chic, casual and fashionable.

Anne and Elrike are from the Netherlands, they are both married and are both students. They encourage us all to shop mindful and enjoy our lives in an adequate tempo, that fits our health and our nature.
---
Friendship and Sustainability
---
Anne and Elrike inspires us all on how to work together with your best friend and stay best friends! They share they common sustainable beliefs on their blog while dividing their work tasks and acknowledge each of their strengths do to their job even better.
They don't believe in a sustainable from one-day-to another-change-your-whole-life-situation, but believes in small steps, little by little, to ensure long-lasting sustainable habits.
---
---
---
Questions about
Anne and Elrike
---
Age: 25 and 27.
Where are you from:

The Netherlands.

 

Favourite breakfast:

Yoghurt with granola and fruit or pancakes.

 

Favourite garment in your wardrobe:

White linen summer

dress, our Mud jeans and vintage blazers.

 
Favourite travel destination: Italy.
---
---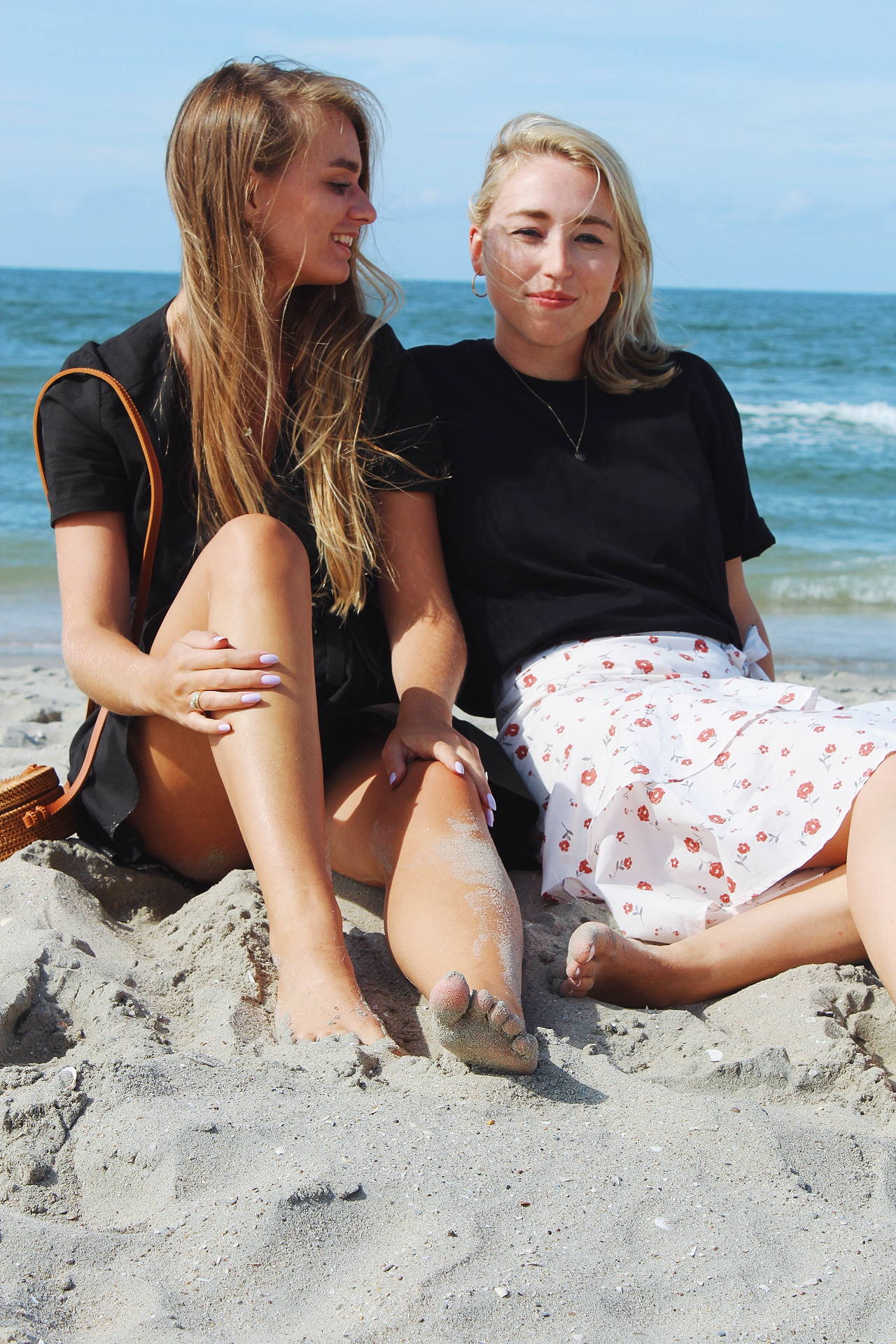 ---
---
---
---
''We believe in taking small steps instead of going on a sustainable crash diet that you can't hold on to in the long run. This mindset is central for us in implementing sustainability in our everyday life. Slowly, we change our behaviour by replacing fast fashion for sustainable fashion, our shampoo bottle with a shampoo bar and eating a veggie-burger instead of a hamburger. We're still discovering in this sustainable journey.''
Anne van Veen & Elrike van Spronsen.
---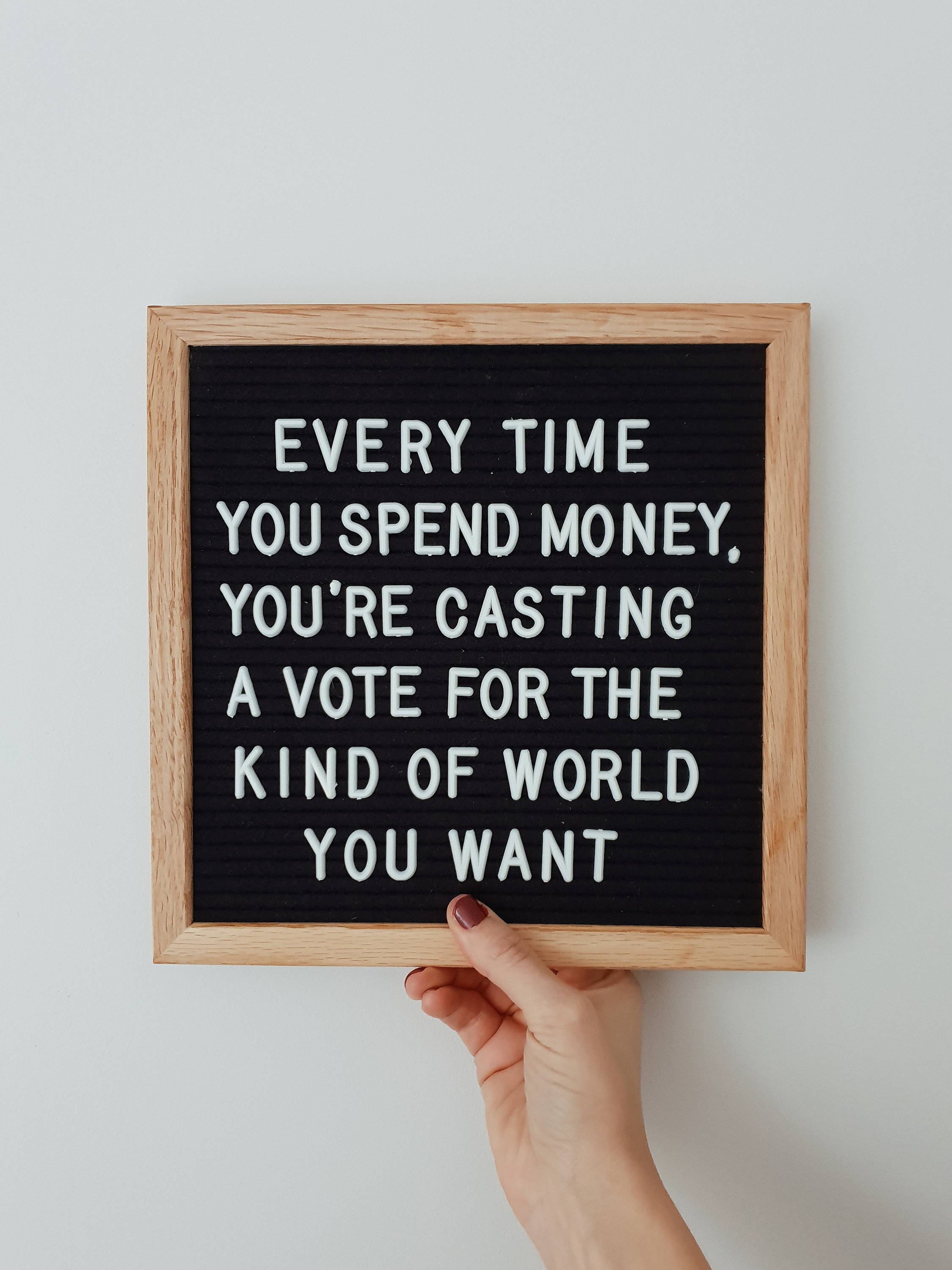 ---
---
Why is sustainability important to you?


We think that there is a growing awareness that our culture has flaws that have major consequences for future generations. As a new generation we feel passion and responsibility to change this. Therefore sustainability means more to us than just buying ethical clothes. In the end fast fashion is only a reflection of the fast pace of everything around us. So although we can now quite easily resist fast fashion; it's the reflection of a bigger problem. Sometimes it feels like we're addicted to new impulses to give us a new rush. But these rushes only provide short-term energy. To really recharge ourselves we need to take it slow sometimes; not only for ourselves but also to lighten the burden for other people and nature. Think about the effects of our high pace on the environment and other people like pollution & exploitation.
Any quote or wise words you want to share regarding sustainability?


'Every time you spend money you're casting a vote for the kind of world you want'
---
---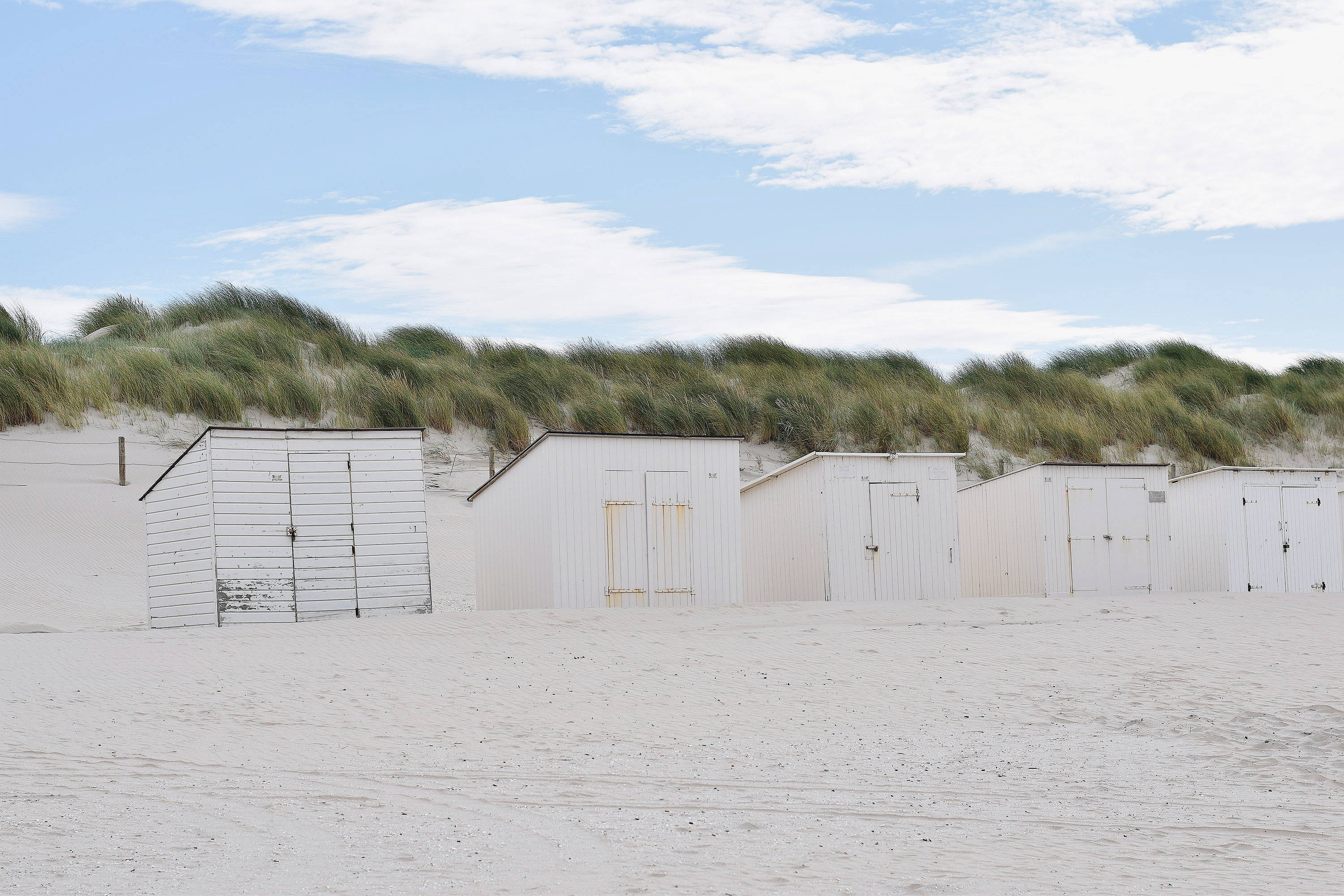 We love to go to the beach in summer. This is the beach in Elrike's hometown. We can just jump on our bikes and be there in 10 minutes!
---
Tell us about yourself and where you grew up?


We are Anne (24) and Elrike (27), both married and we live in Utrecht and s-Gravenzande (a coastal village) in the Netherlands. We're both still students. Elrike studies psychology and Anne studies Social Policy and Public Health.


Anne: 'I grew up in a warm, loving family with two sisters and a brother. One of the most characteristic aspects of my family is the love for discussion. There was hardly a day when there was no discussion. These discussions could be about anything from religion and philosophy to music. Through this I have learned to listen and to think and look critically - also in what I believe myself. As a result, I find it very interesting to delve into the disadvantages of "fair fashion". I think it helps to develop ourselves and our solutions.'

Elrike: 'I grew up on an island with my family. My childhood wasn't an easy period to be honest, but because of that I learned to follow my own path and fight for things that are important. My mom taught me to think critically and be open towards other visions. I also learned to talk about everything, as there was nothing that could not be discussed. A strong love for justice, understanding people and life and connecting with others grew in me along the way. I was also a bit of a dreamer: I read a lot and loved to look out of my window and watch the sun go down over the fields. And I still love to live close to the beach!'
What was your dream profession as children?


Anne: I always had many dreams. Therefore my dream profession has changed a lot, from beautician to debt counselor and now I work partly as an advisor. Although this seems very random, the common thread is that I always looked how to make a contribution towards a positive change. I guess this is also the reason why I secretly really like to watch home make-overs.

Elrike: I never really knew what I wanted to become later on. But if I look at what I wrote in friendship books as a child -those booklets that primary school children use to make up who their friends are- I think I wrote that I wanted to become a teacher or a singer. I became a teacher for children with special needs later on, so that came true. I think I've always been interested in people and the way they learn and behave. Besides that, I love to be creative, something that I can put into the blog as well.
When and how did you become friends?


We met each other on a trip to England. It wasn't love at first sight, as Elrike first thought Anne was a bit arrogant. But as in most movies, these are the ones who become best friends in the end. We bonded as we slept in the same room and found out that we shared the same interests and view on life.
What do you find most inspiring in each other?

Elrike: Anne is a visionary, she knows what she stand for and is yet quite open. She inspires me with her way of looking at things and the way she expresses herself. She motivates me to step out of my comfort zone and just go for it! I also love her creativity.


Anne: Elrike is an inspiration to me when it comes to a sustainable lifestyle on a personal level. She inspires me to take it slow sometimes and to value the journey itself, not only the outcome: the result is that we have a lot more fun during our journey! Plus, she has a great sense of style and passion for styling - I love that about her!
---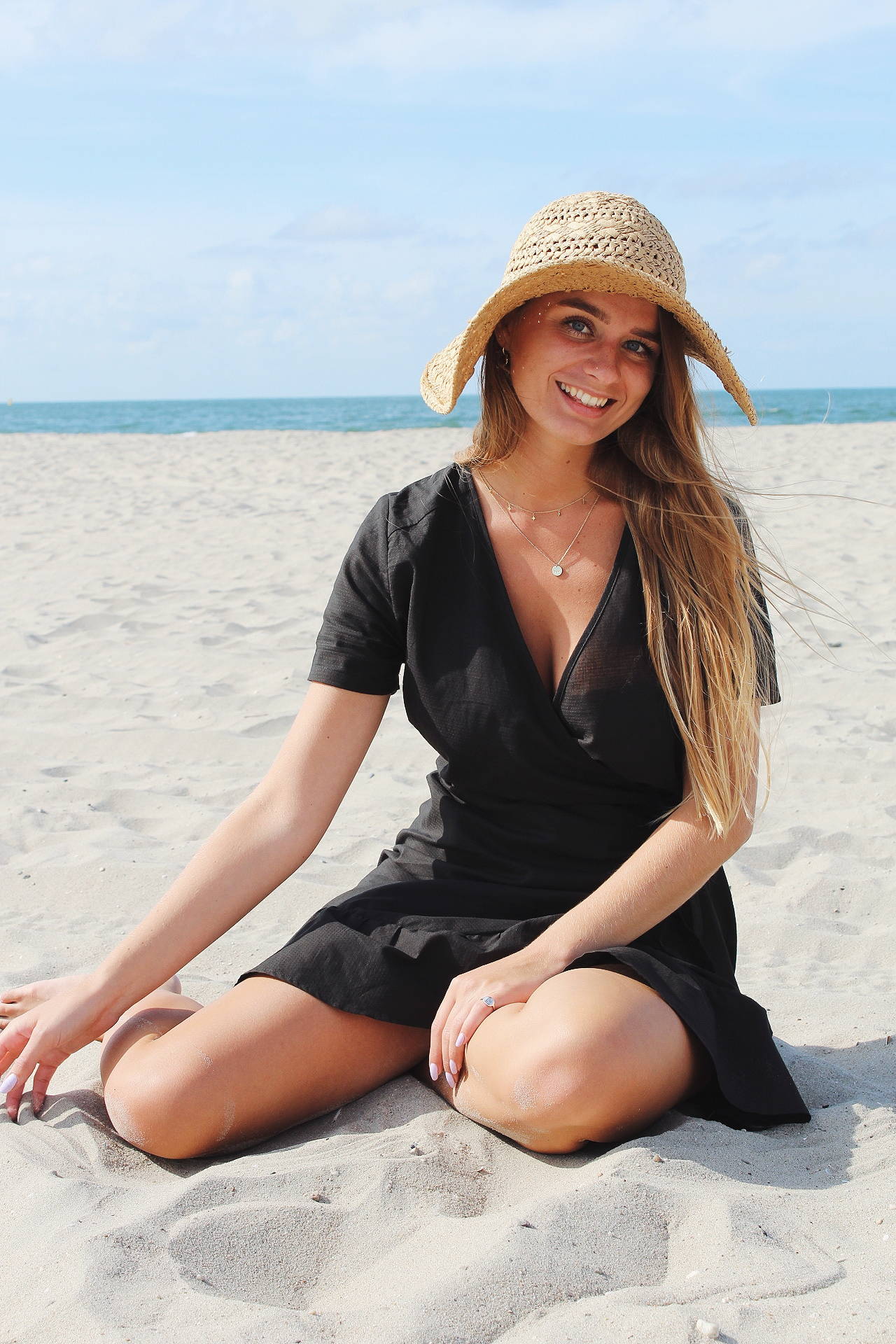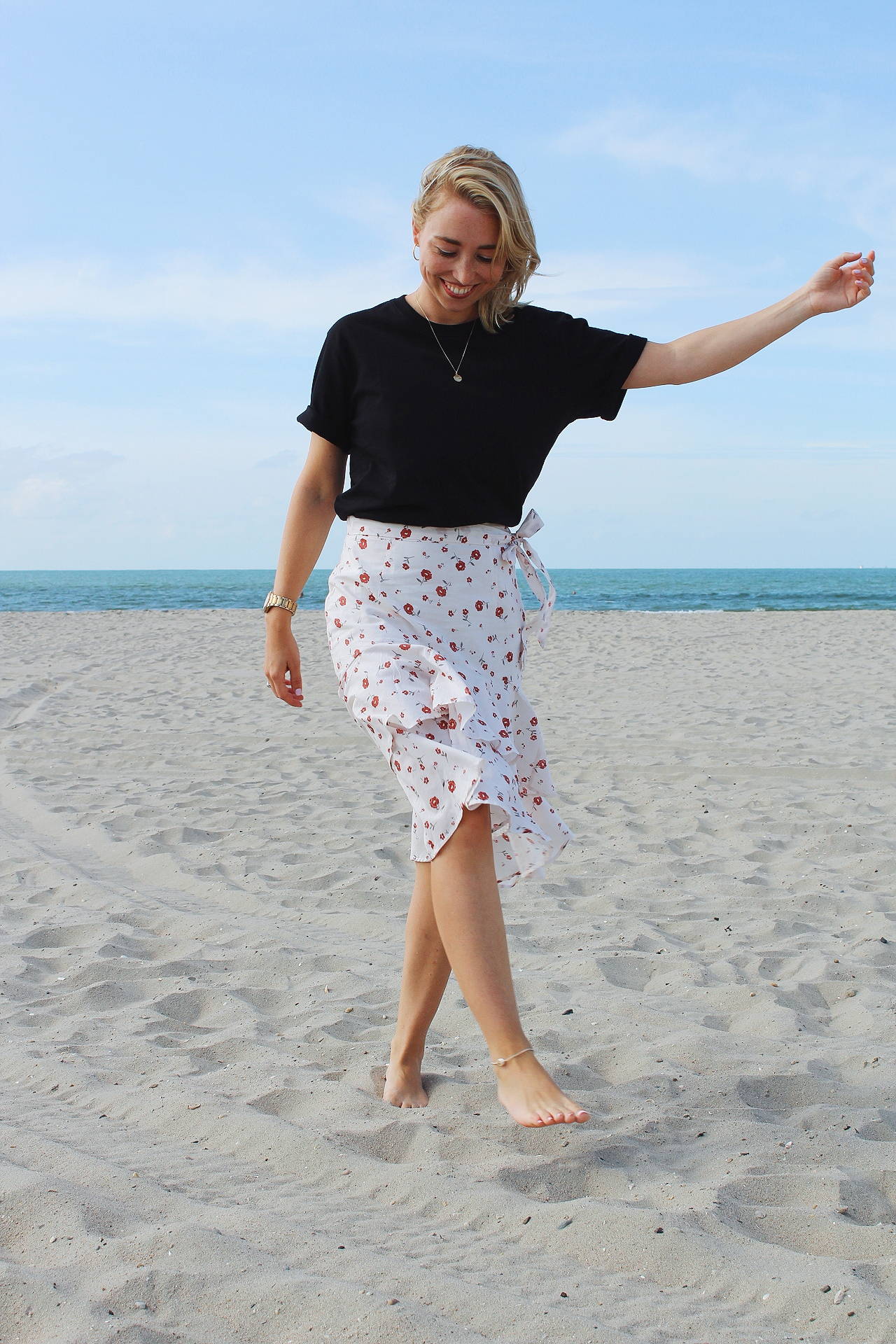 ---
Have you always been interested in fashion?
Anne: I've always enjoyed to dress up nice, but fashion in itself has never been a passion for me. My passion for clothing started mainly because of the interest in the ethical and cultural aspect of it. However, I also get more and more passion for fashion itself as a form of art.


Elrike: I have always loved fashion. I still remember that exciting feeling I got as a little girl when we went shopping for new clothes at the beginning of autumn or spring. To me fashion is about creativity, expression and personality. I get inspired by how other people dress, the story an item tells and by looking at different designs. I like that in our blog we combine this passion for fashion and meaning.
What does Fashion mean to you?


Since ancient times, clothing has been an expression of our identity: a piece of fabric showed the social class, religion, regional descent and occupation of people. Although this has changed, fashion is still a beautiful reflection of our culture. This makes it very interesting. Besides that, fashion is also a form of art for us - something to admire and enjoy!
What is your go-to style for a chic everyday look?


We love to combine a classic item, like a (vintage) blazer with a good pair of jeans or a nice pantalon. To add some contrast we combine it with Dr. Martens, an edgy t-shirt or a hat. Top it off with golden jewellery or a pair of statement earrings!
What do you prioritise most when shopping Fashion?


At first we were mainly concerned with looks and the price tag. Luckily this has changed: now ethics are our first priority because in the end: 'There is no beauty in the finest cloth if it makes hunger and unhappiness' - Mahatma Gandhi. Fortunately, there are plenty of brands that offer aesthetics and quality in addition to high ethical values. Of course it should also be affordable (especially because we're both students), but we find balance in that by buying less and buying secondhand or vintage.
---
---
We think it's important to think critically about consumerism. Hence is why we like to read books about this topic, such as this one about if it's possible to buy a better world. Anne specialized herself on this topic for her study as well. Furthermore a net bag is such a handy investment! It's easy to bring along and we Always use it to put our fruit and veggies in.
---
These shoes are Anne's favourite to spice up an outfit. They are from l'Intervalle, a brand that produces fairly in Spain.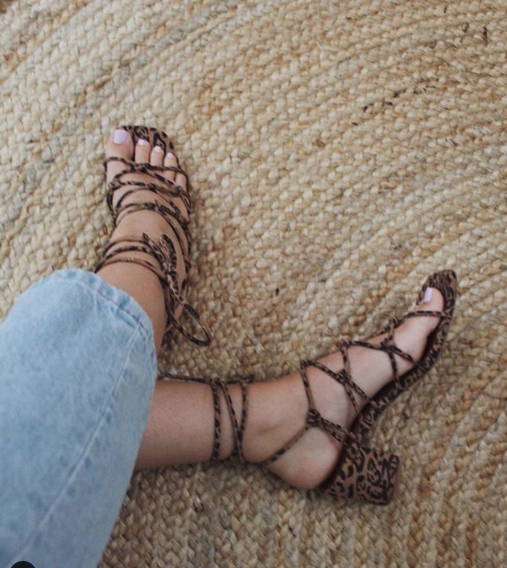 ---
---
Have you always been interested in sustainability?


That interest started a few years ago, when we both got married and started to think about how we wanted to fill in our lives. Our journey into sustainability actually started by eating Tony's Chocolonely - fair trade chocolate (chocolate is one of our big loves!). This woke our interest in sustainability and living consciously.
What made you start your sustainable fashion blog?


The collapse of the factory in Rana Plaza, killing 1134 employees, made a big impression on us. A few years later we saw the documentary 'The True Cost' and we realised: Rana Plaza was not an example of an incident but a signal of a structural problem. Through this documentary, we also became aware of the impact of our clothing on the environment. Therefore we wanted to change our wardrobe to a more ethical one!
At first this was quite challenging: it seemed that if you didn't want the story to be ugly, your clothes certainly would be — unless you had a lot of money. But we were determined; there had to be another way. So we started searching for affordable, fashionable clothing with a fair and sustainable backstory. After a while we found more and more brands who checked all our boxes. This is why we started our blog Fair Friday: we want to help others in finding affordable, stylish fair fashion. Plus, inspire people to get a new perspective on fashion!
What do you find to be the most challenging aspect of the current conventional fashion industry?


The current fashion industry is not based on circularity, but its model is exhausting resources. Concerning bigger fashion companies, the whole chain is not transparent: from manufacturing in different factories in different countries to the origin of fabrics. Another challenging aspect is the way we're used to consume. By frequently buying new clothes for bargain prices, we contribute to the maintenance of this model.

How do you tackle the constant shifting trends and the consumers needs that follows?


As consumers we need to break with the needs that the clothing industry creates. For example, by doing a no-buy challenge for three months. We enjoy fashion, but it must be in balance. We have pretty much lost that balance in the last century. This mindset can help to bring us back in balance.
What is your advice to someone who wants to shop more consciously?


As Anne Marie Bonnau said: 'We don't need a handful of people doing (it) perfectly. We need millions of people doing it imperfectly.'
So for example you can start with investing in good, sustainable basics such as sustainable jeans from MUD Jeans, Kuyichi or Kings of Indigo. You can make a big impact by choosing for sustainable jeans. Why do you think? Well, the water consumption of one average pair of jeans is about the same as the drinking water 1 person drinks in 10 years. By choosing for sustainable jeans you save 5500 liters of water per jeans. Plus, If all goes well, you will spend a very long time wearing jeans, so the investment is worth it!

Doubting if your item really is really timeless and sustainable? Then apply the 30-wears rule: consider before buying whether you will wear it (more than) 30 times.
---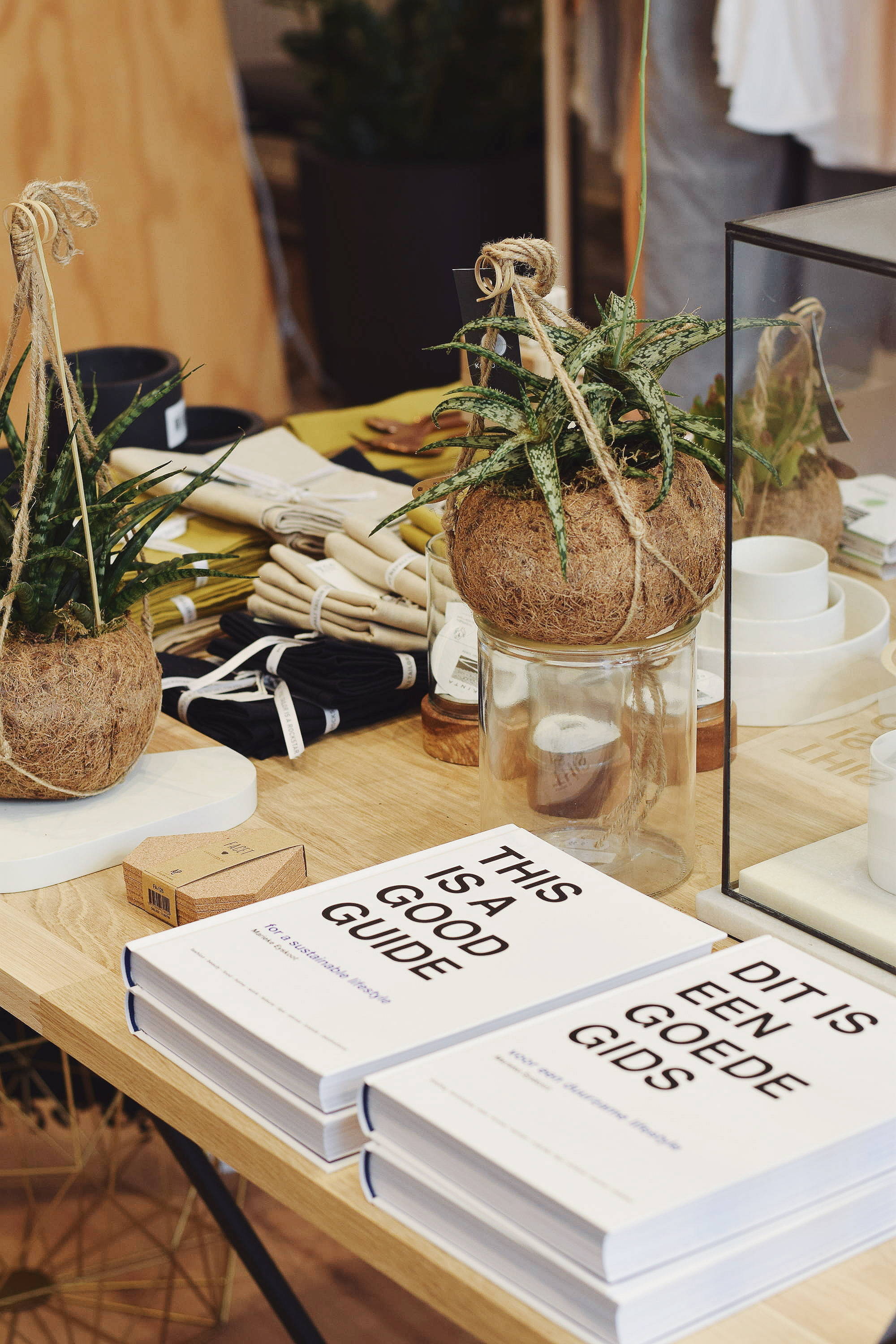 This is Studio Jux, a store that sells their own sustainable brand made from beautiful materials like hennep, linen and organic cotton. You can also find other sustainable labels there for women as well as men, children and your home!
---
How do you find balance between your sustainable beliefs and your everyday needs?
We find it easier to choose for a better option when it comes to clothes, than if it comes to groceries or transport. Because we're all very busy, we often choose for the easiest option. And the easiest option is often not the most sustainable one. We try to implement the more sustainable choices in our lives step by step. It starts with educating yourself and then implementing it until it becomes a habit and it takes less effort.
What has been the easiest sustainable habit for you to adapt?
Anne: 'I think for me it's buying less - because I save money and time it's very rewarding.

Elrike: 'Bringing cotton bags with me to buy fruits and veggies at the market or supermarket.'
…And what has been the most challenging?

Elrike: 'For me that is buying less haha.'
---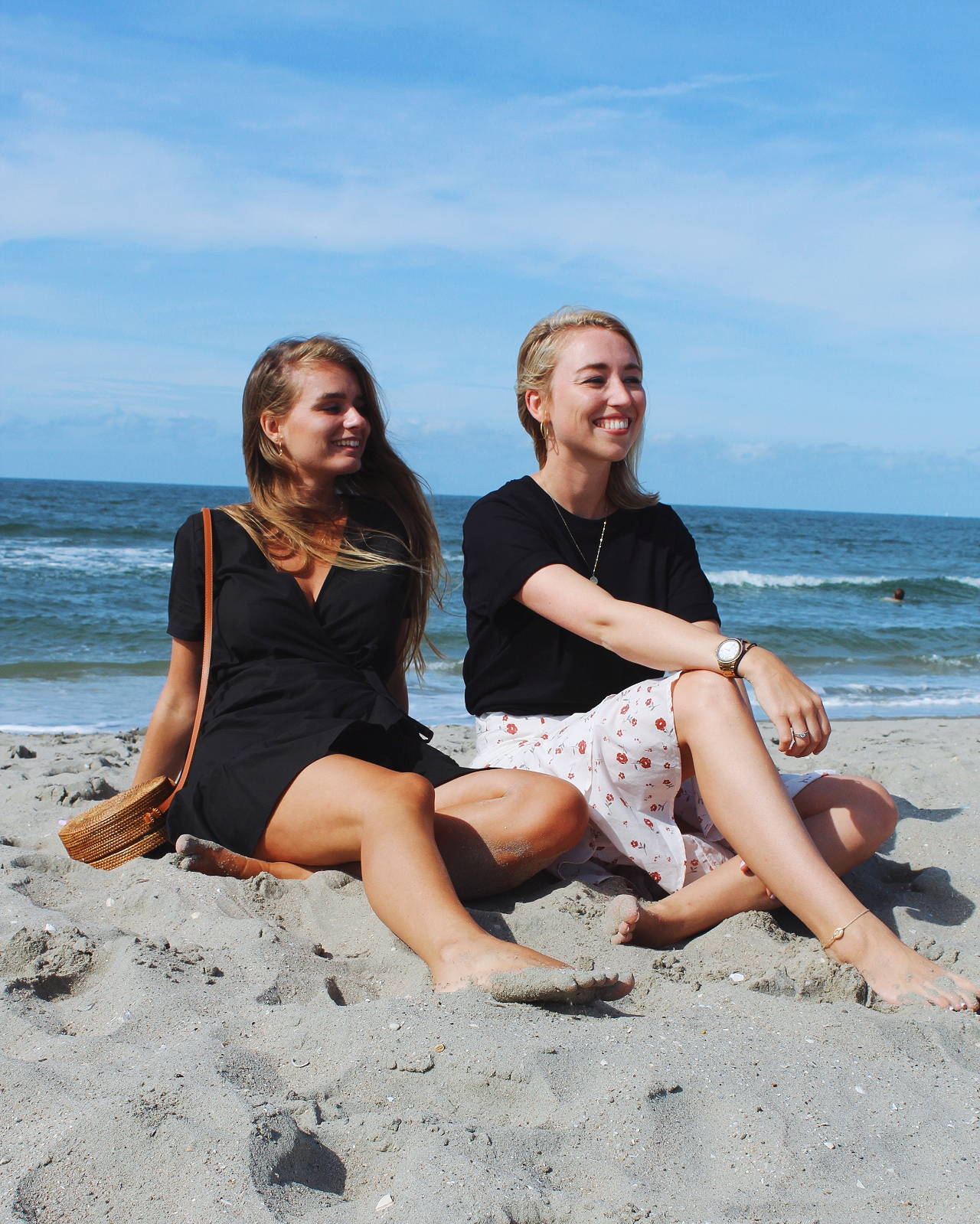 ---
What is the best thing about working together?
We complement each other and we can share all the good things as well as discuss our visions and talk about the roadblocks. And although making photos together can be a bit challenging sometimes (we often have different preferences when it comes to deciding which photo we want to use), we also have a lot of fun during photoshoots.
How is your work balance shared among you?

Most things we do together like designing and creating content. Furthermore through time our work is naturally divided based on our competencies. For example, Elrike has an analytic and creative role and she likes to do the styling. Anne has a more strategic and managing role and loves to develop new ideas and a long-term vision.
Do you have any advice for others who might want to start a business with a good friend?
It's always tricky to start a business with a good friend. We think it's really important that you are transparent towards each other. It's almost like marriage: it's all about communication!
Where do you picture yourselves in 5 years?
Anne: 'In the future I hope to combine Fair Friday with a part-time job as a consultant in the field of sustainability. Besides this, I would also love to give more lectures about fast and fair fashion.'
Elrike: 'I think we will both still be busy with the topic of sustainability. I don't know if this will be in the form of a blog, or in another way. We also dreamt about launching our own fair fashion label one day, so who knows.. To see the growing movement for a positive change in the fashion industry encourages us and we're curious where that leads to in the future!'
---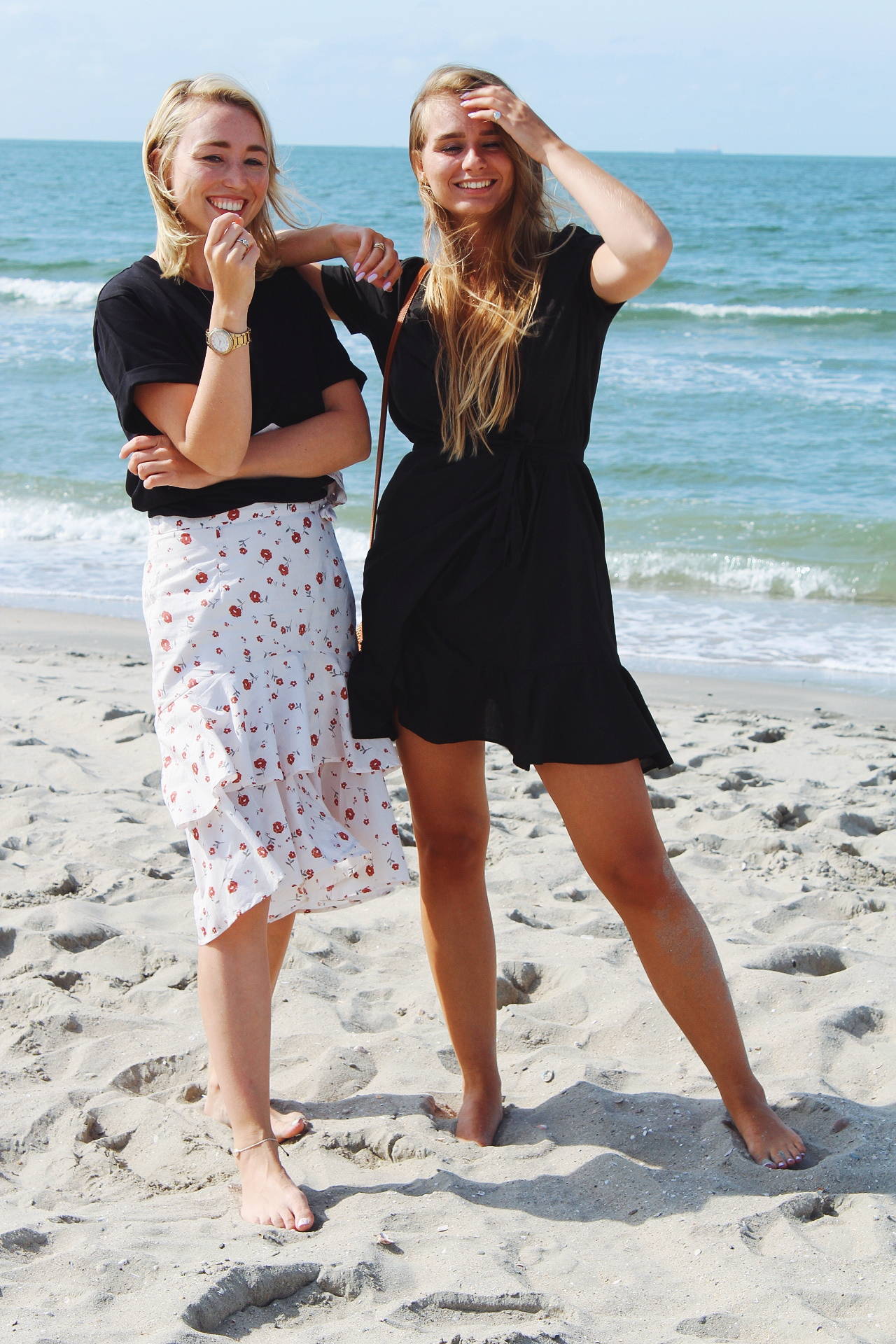 ---
We are grateful for the little sneak peak we got into the life of Anne van Veen and Elrike van Spronsen.
 
We hope you enjoyed it too.
---
Learn more about Anne and Elrike on their eco friendly blog here.
Photo credits: Anne von Veen and Elrike von Spronsen
---
✕